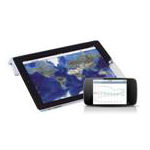 Atmel, Broadcom, Dell, Intel, Samsung and Wind River have joined to form the Open Interconnect Consortium (OIC) in an effort to improve interoperability and define connectivity requirements for the fast emerging Internet of Things (IoT).
The founding partners will work jointly to define a common communications framework "based on industry standard technologies to wirelessly connect and intelligently manage the information flow among personal computing and emerging IoT devices, regardless of form factor, operating system or service provider," they state in a press release.
Aiming to accelerate development of the IoT framework, each OIC member will contribute software as well as engineering resources to develop a protocol specification, open source implementation and a certification program.
The OIC spec is to include "a range of connectivity solutions, utilizing existing and emerging wireless standards and would be designed to be compatible with a variety of operating systems," consortium members explain.