Open access operator A2D has begun work on a broadband middle-mile and fiber-to-the-premises network in Warner Robins, Georgia through a public/ private partnership with the city. A2D will design the network, oversee construction and manage and maintain it but will not offer service directly to end users, explained A2D Vice President Jerrald Rector in an interview with Telecompetitor. Instead, A2D will sell service on a wholesale basis to other service providers, who will serve end users.
Located 100 miles southeast of Atlanta, Warner Robins is home to an air force base, which is a cornerstone of the community. The city's population was more than 66,000 as of the 2010 census. While this may not be a typical remote unserved area, Rector said the two network operators currently serving the community "weren't providing service to the level" that the city wanted.
A2D's deal with Warner Robins calls for the city to simultaneously become "a gigabit city and a smart city," Rector commented. In addition to deploying broadband, A2D also will be working with the city on its technology improvement roadmap. The city is exploring the use of smart city technology such as smart lighting, water metering and gas metering.
Open Access Operator A2D
A2D, founded in 2005, specializes in public/private partnerships to support municipal networks and currently serves four communities. Asked about funding, Rector said each deal is unique. The Warner Robins network, for example, will receive state funding to cover some costs.
The deal calls for A2D to connect all Warner Robins municipal facilities by September 2018 – a move that will save the city a considerable amount of money in comparison with purchasing service from current suppliers. The company plans to begin delivering fiber connectivity to homes and businesses by this summer, according to a press release.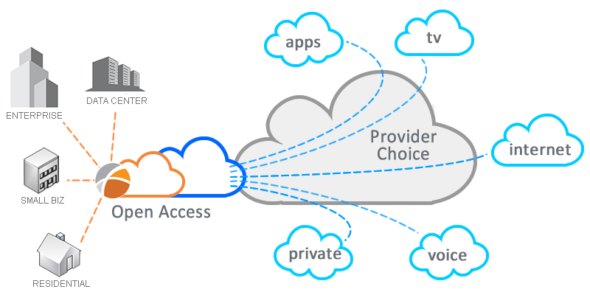 A2D expects to deploy fiber-to-the-home (FTTH) initially in areas where its retail service provider customers have sold service but eventually expects to expand throughout the community. Rector noted that the situation may arise in which multiple retail providers serve customers connected to the same FTTH splitter, adding that A2D has developed a platform that enables it to handle that situation, including properly billing each service provider for network connectivity.
Several networks operators, including some familiar names, resell A2D connectivity. CenturyLink offers both residential and business services via an agreement with A2D. Other operators offering business services through such agreements include Windstream, Cogent and NTT.
A2D receives some e-rate funding but although it serves some rural areas, it does not receive any money from the Universal Service Fund or Rural Utilities Service, Rector said.
Another area of focus for A2D is constructing and managing private LTE networks. Rector said he hopes to have some news in that area in the future.
This post was updated to clarify A2D's role in assisting the city of Warner Robins with smart city initiatives.