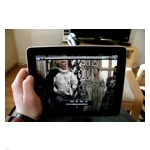 Viewers continued to watch a lot more in the way of online video in 2012, with hours spent watching streaming video on tablets and mobile devices doubling in 2012, according to Ooyala's "Global Video Index: 2012 Year in Review."
Ooyala offers technology to analyze video viewing habits and to personalize video experiences on various types of devices. The company's Global Video Index was created with the goal of providing insight about consumer video viewing habits to media companies and brand marketers.
Highlights of Ooyala's 2012 year in review report include:
Viewers watched live video 18 times longer on desktops, five times longer on tablets and four times longer on mobile than video-on-demand content in Q4
Branded video views surged 91 percent from the start of the quarter to their peak in mid-December
iPhone users watched twice as much video on their phones than Android users did in 2012
Approximately one third of total time spent watching tablet video last quarter was with premium, long-form content running more than 60 minutes
"Streaming video has crossed an inflection point and it's now a necessary channel for both consumers as well as broadcasters, brands and media companies around the world," Ooyala CEO Jay Fulcher commented in a company press release.
Ooyala measures and analyzes anonymous data associated with the viewing habits of some 200 million unique viewers across more than 130 countries in producing its Global Video Index reports.
Video being viewed via multiple devices results in audience fragmentation, which makes it even more important for content providers to understand viewing behavior across audiences, Ooyala notes.
"The data we provide in this report, and direct to our customers, is critical to understanding how consumers are engaging with video online. These insights help our customers deliver more engaging, personalized video experiences, and as a result, make more money from online video."
Image courtesy of flickr user Ben Dodson.