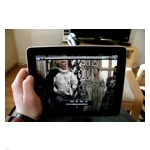 Viewers of online video spent more time viewing premium, long-form entertainment in the first three months of 2012 than they did previously, according to new research from Ooyla, a provider of video management and analytics. Defined as online video lasting more than ten minutes, long-form content made up more than 50% of online video views during Q1, the first time that's happened since Ooyala began gathering data for its online video index.
"This means people are spending more time than ever watching full-length TV shows, feature films and sporting events, while time viewed in short bursts is decreasing as a percentage of overall consumption," said an Ooyla press release.
In its Q1 2012 Video Index Report, Ooyala also noted how anytime-anywhere access is altering online video viewers' viewing habits. "There is a fundamental shift in the way people are viewing television. Consumers now have the power to choose their own prime time," said Jay Fulcher, Ooyala CEO. "The spike in tablet and smartphone viewing during weekend nights and commutes shows how the living room experience is fragmenting across devices. Smart publishers and advertisers can use analytics like those Ooyala provides to understand which revenue strategies work best as these trends continue to evolve."
Competition to gain market share in the online video marketplace continues to heat up, as pay-TV providers vie with OTT upstarts and as incumbent TV and cable companies vie with new market entrants from the high-tech arena. Amazon, for instance, is building a formidable OTT service in its Amazon Instant Video, having recently announced a content distribution deal with Paramount Pictures.
Also among Ooyala's Q1 Video Index report highlights:
The overall share of time watched on smartphones grew by 41 percent last quarter, while the share of time watched on tablets grew by 32 percent
On a typical weekday, a full third of tablet video plays occur between 7:00 p.m. and 11:00 p.m., while only about 17 percent of PC plays take place over that same period
Viewers on connected TVs watch nearly a third more video between 4:00 p.m. and 11:00 p.m. on Saturdays than on a typical weekday evening
Power viewers emerge: ten percent of one publisher's audience watches more than five of its videos in a given day
Following Apple's March iPad release, the amount of video watched on tablets jumped 26 percent. iPads presently account for 95 percent of tablet video viewing
Many publishers can significantly improve revenue by increasing ad load and employing more mid-roll ads, especially on longer videos
Ooyala collects online video viewing data from across its network footprint covering nearly 200 million monthly viewers worldwide. The company processes more than two billion video analytics events daily, analyzing conversion rates, video completion rates and social sharing events, along with hundreds of other metrics spanning a variety of Web and device platforms and geographies. In addition to its quarterly Online Video Index reports, statistical updates and online video insights are posted to its VideoMind blog.
Image courtesy of flickr user Ben Dodson.