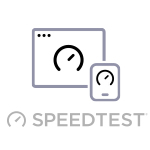 Xfinity offers the fastest broadband in the U.S., according to The 2018 Speedtest U.S. Fixed Broadband Performance Report by Ookla. The provider was the fastest in the country overall and was first in nine states and 17 large cities. Verizon and Cox tied for second nationally.
The United States had a 35.8% increase in mean download speed and a 22% increase in upload speed over the previous report. The U.S. now is seventh in the world for download speed, between Hungary and Switzerland. It is 27th for upload between Bulgaria and Canada.
Commentary in the report said that broadband speeds vary widely based on provider and location. The average download speed was more than 95 Mbps and the average upload speed was 32.88 Mbps. Xfinity had a SpeedScore – a composite metric of upload and download speed — of 104.67. The rest of the top five were Verizon (102.57), Cox (101.84), Spectrum (87.56) and AT&T Internet (76).
Fastest Broadband
Ookla also measured the percentage of download test samples that are acceptable for 4K transmissions. The threshold – called the Acceptable Speed Ratio (ASR) — is considered to be 25 Mbps or greater. Xfinity was successful 84.5% of the time, Spectrum 83.5%, Cox 81.7%, Verizon 70.6%, AT&T Internet 56.8% and CenturyLink only 34.6%.
New Jersey was the fastest state with a score that was 139.8% speedier than the slowest state, which was Maine. Five east coast states (Massachusetts, Maryland, Delaware and Rhode Island in addition to New Jersey), as well as the District of Columbia, ranked in the top ten. Wyoming, Montana, Idaho and Vermont were grouped with Maine at the bottom. Three Google Fiber cities–  Atlanta (with a SpeedScore of 205.78), Charlotte, N.C. (199.20) and Austin, Texas (197.44) — were the fastest.
In September 2017, Speedtest Intelligence data showed that the average download speed in the United States was 64.17 Mbps and the average upload was 22.79 Mbps.