The speeds that SpaceX Starlink low earth orbit (LEO) satellite broadband dropped for the second consecutive quarter in the U.S., according to the latest data from Ookla.
The media download speed was 53 Mbps in the U.S. – a decrease of "at least 17%," Ookla said.
For the second quarter of 2022, Starlink's median download speed in the U.S. was 62.5 Mbps, which was a decrease from the first quarter of the year, when the company's median download speed was 90.5 Mbps.
Ookla attributes the declines to Starlink's expanding customer base. As the company gets more customers, capacity is stretched, causing speeds to decline. The company's worldwide global customer base has hit 400,000, Ookla notes.
According to the Ookla report, though, Starlink's 53 Mbps speeds should be sufficient for most subscribers' needs and will be an improvement over existing broadband options in many rural areas.
About three quarters of U.S. counties now have at least 10 Starlink users – a big jump from roughly 25% for the same quarter a year ago, Ookla said.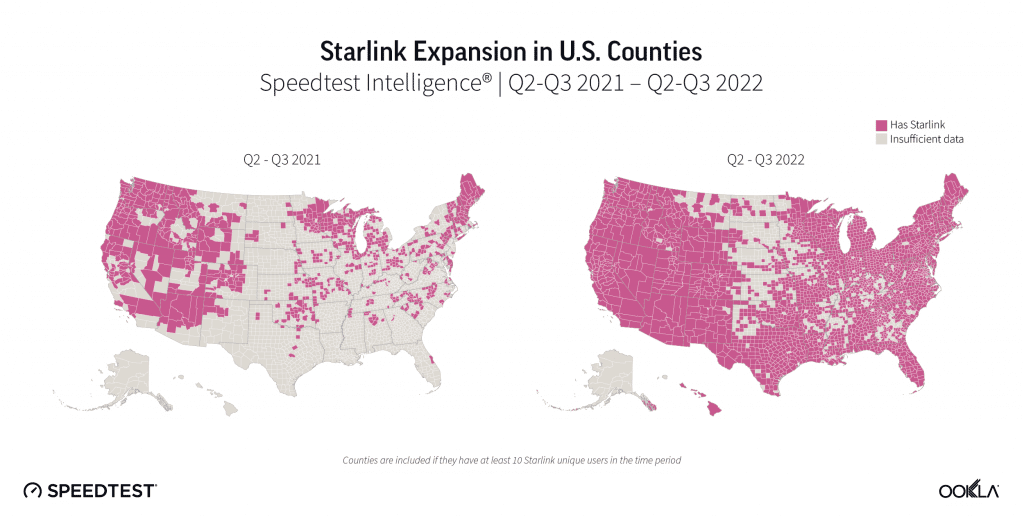 Among nonmetro counties, about 17% have at least 10 Starlink users.
Starlink RDOF Bid
It's worth noting that Starlink had some bad news between the second and third quarter of 2022 when the FCC rejected the company's bid to receive nearly $900 million in Rural Digital Opportunity Fund (RDOF) money to cover some of the costs of providing service in unserved areas.
Starlink tentatively won funding to provide service at speeds of at least 100 Mbps downstream, almost twice the company's current median speed. The FCC's rejection was not based on that, however, at least not primarily. Instead, FCC Chair Jessica Rosenworcel expressed concern about the cost of the service.
Not all FCC commissioners agreed with Rosenworcel's concerns, however. Commissioner Brendon Carr argues that Starlink funding should have been approved because Starlink would have provided an alternative to fiber broadband at a lower subsidy and that the company's performance would improve in time to meet key deadlines.
In September, Starlink filed an application for review of the FCC's decision to reject the company's RDOF bid.