Charter's Spectrum broadband service moved ahead of Cox for the fastest median download speeds in the United States during the third quarter, according to Ookla Speedtest data.
Charter Spectrum had a median speed of 211.66 Mbps. Cox was second (196.52 Mbps).
Rounding out the top five were Comcast Xfinity (191.65) Mbps, Verizon (176.49 Mbps) and Altice Optimum (176.03 Mbps).
Ookla Fastest Download
Other key takeaways in the fixed broadband category:
Fastest uploads: AT&T Internet (125.87 Mbps), Verizon (108.64 Mbps), Altice Optimum (30.68 Mbps) xFinity (20.28 Mbps) and CenturyLink (11.89 Mbps).
Lowest multi-server latency: Verizon (15 ms), Altice Optimum (23ms), AT&T Internet (23 ms), Comcast Xfinity (25ms) and Cox (25ms).
Consistency (Speedtest's measure of the percent of time that the service provided at least 25 Mbps download and 3 Mbps upload speeds): Charter Spectrum (91.3%), Comcast Xfinity (90.8%), Cox (90.2%), Altice Optimum (88.8%) and Verizon (87.8).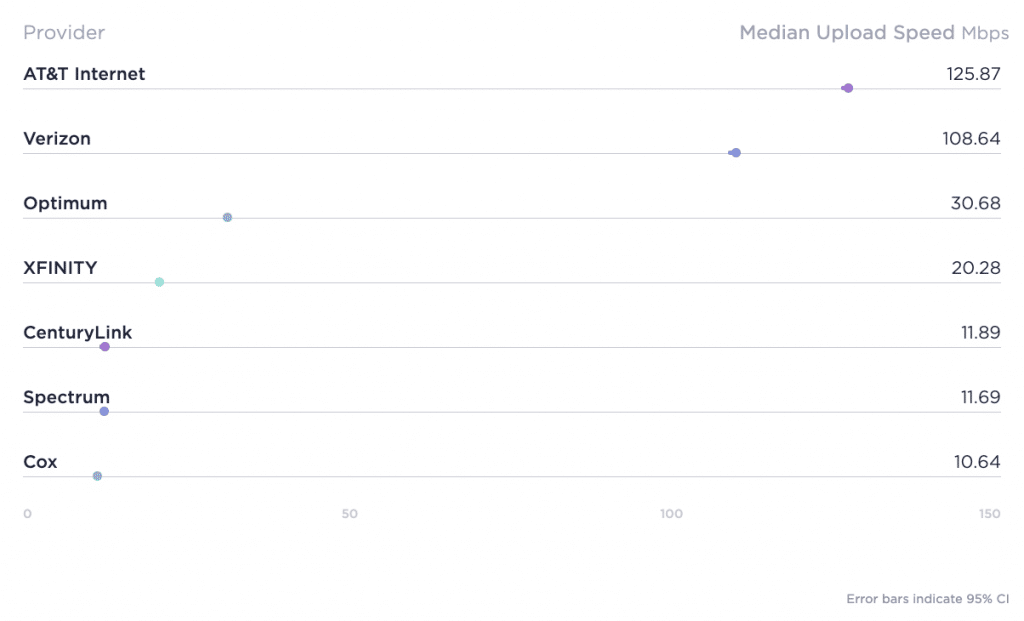 New Jersey was the state with the fastest Ookla download speed at 204.48 Mbps. Florida was second, New York third, Texas fourth, and Connecticut fifth.
Alaska had the slowest median download speed at 59.40 Mbps. Wyoming was the next slowest, followed by Montana, Vermont, and New Mexico.
Charter Spectrum was the fastest fixed broadband provider in 11 states during third quarter. Comcast Xfinity and Verizon were fastest in six states. Cox was fastest in four states. Google Fiber was fastest in three states. Midco was fastest in two states. Allo, C Spire, EPB, Frontier, GCI, GoNetspeed, MetroNet, Sparklight, Starry, and USI were each fastest in one state.
The United States finished seventh in fixed broadband and twenty-second in Mobile performance globally in the Ookla Speedtest that was conducted last month.