The average U.S. broadband download speed continued its years-long upward track during the first half of 2017, according to a fixed broadband speed report from Ookla. The report, which is based on Speedtest Intelligence data from more than 26 million users who initiated more than 111 million tests, revealed average download speeds of 64.17 Mbps and upload speeds of 22.79 Mbps.
The United States clearly has some work to do: The download speed was 15th best in the world (between the Netherlands and Spain) and the upload speed only was good enough for 24th place. Within the U.S. there is a wide disparity of broadband speeds, with the West region (58.34) far outpacing the Northeast (34.14) and Midwest (40.83).
Average U.S. Broadband Download Speed by Category
Ookla has developed a speed score which incorporates low, medium and high end performance for both uploads and downloads. Comcast XFINITY was tops with a speed score of 69.58. It was followed by Verizon Fios (66.74), Cox (64.85), Charter Spectrum (51.45), AT&T Internet (49.59), Frontier (31.70) and CenturyLink (14.91). XFINITY was fastest for the U.S. as a whole and in the west and northest. It took honors in 18 of 100 cities that were analyzed.
XFINITY also is tops in the Acceptable Speed Ratio (ASR) category, a measure of what percentage of tests provide 10 Mbps or faster speeds. The provider achieved a score of 91.6%. It was followed by Charter Spectrum (90.2%), Cox (89.4%), FiOS (84.6%), AT&T (75.4%), Frontier (63.6%) and CenturyLink (51.8%).
Broadband speed drivers are diverse. Verizon Fios, for instance, saw its average spike, according to Ookla, when it introduced a $69 Gigabit tier in April. Likewise, Comcast is broadening its FTTP offerings which drove its results. These moves increase the speeds of the individual ISP and create competitive pressure for others to follow suit.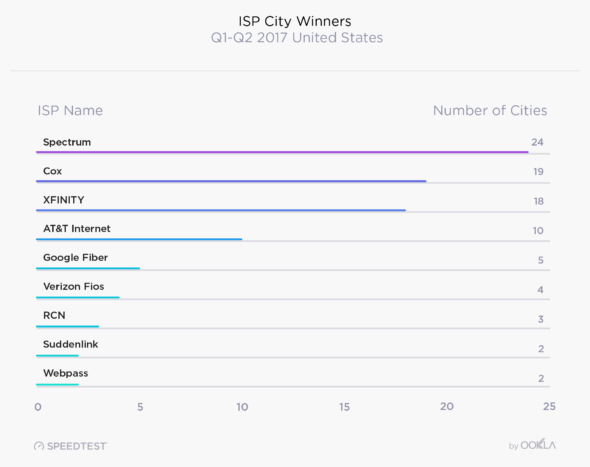 Ookla said speeds should continue to increase as deployment of DOCSIS 3.1 continues. This, the firm said, should make 500 Mbps and 1 Gbps offerings widely available. It will be interesting, Ookla said, to see if cable providers follow Altice's lead and move from DOCSIS to FTTP.