Analysis Ookla's Speedtest Intelligence mobile speed data from the first quarter of the year provides some good news for each of the big three mobile carriers. It also notes that the C-band may upset the status quo in the not-too-distant future.
The good news for T-Mobile is that the company has maintained its significant lead in 5G performance with a median speed of 191.12 Mbps. That easily outstripped Verizon's 107.25 Mbps.
Though it still is significantly behind T-Mobile, AT&T did see speed gains as a result of its C-band deployments. Other good news for AT&T: The company's net postpaid additions beat expectations, driven by stronger 4G/LTE performance relative to Verizon, wider 5G coverage and aggressive postpaid pricing.
Verizon's good news may be in the future. The Ookla analysis suggests that the expected continuation of inflation will force mobile carriers to make a choice before the release of more C-band spectrum at the end of next year. They will either absorb the additional costs or raise prices. AT&T, Ookla says, has decided to raise rates, which could benefit Verizon.
AT&T's postpaid net additions were about 700,000 between the first quarter of this year and the first quarter of 2020. This was well beyond T-Mobile, which added a bit less than 600,000 subscribers, with Verizon weighing in with a loss. The causes were strong 4G/LTE performance, greater 5G availability, aggressive pricing, and "delay and controversy" regarding C-band interference concerns raised by The Federal Aviation Administration.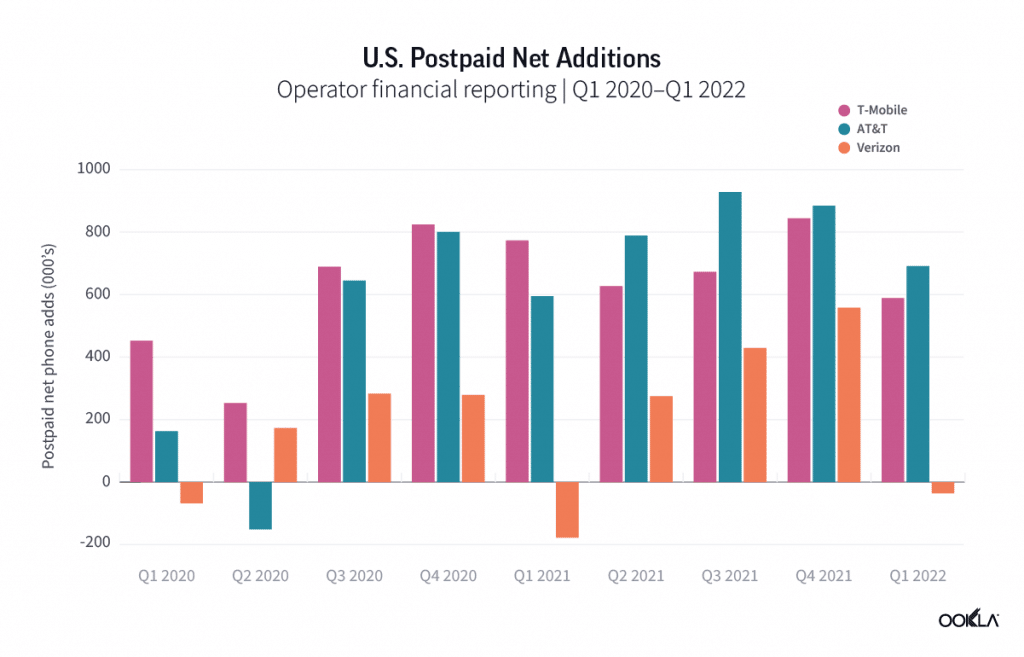 "Postpaid net phone additions, a key barometer of the health of the wireless industry in the United States, has shown strong growth since Q3 2020, following the outbreak of COVID-19," Ookla Lead Industry Analyst Mark Giles wrote in the analysis. "The latest Q1 2022 reporting from the big three US operators, showed a return to negative growth for Verizon (a decline it has now replicated annually over the last three years), but also showed continued strong gains for both T-Mobile and AT&T."
The C-band could be a game changer, according to Ookla. In late January, the firm said that T-Mobile could lose its 5G speed lead as a result of C-band deployments by AT&T and Verizon.