A  large majority of Americans have been victims of one form of data theft or fraud or another, according to Pew Research Center's latest online security survey. Americans not only are concerned about online threats from cybercriminals, they're concerned about unauthorized surveillance and us by corporations and government.
In addition, a substantial share believe their personal data has become less secure in recent years. Moreover, many don't have have confidence in the ability of various institutions to keep their personal data safe from misuse.
This isn't preventing Americans from making ever greater use of the Internet, other networks and all manner of connected devices, though it should be noted that ever growing Internet and connected device usage is being driven by ubiquity, and the need, or pressure, to stay connected for work and/or personal reasons. Pew found that many Americans aren't taking precautions when venturing online, however.
Nearly two-thirds of Americans (64%) have personally been victims of data breaches, Pew's Kenneth Olmstead and Aaron Smith highlight in a Jan. 26 blog post.
Online Security Survey
According to Pew's latest study:
41% of Americans have encountered fraudulent charges on their credit cards.
35% have received notices that some type of sensitive information (like an account number) had been compromised.
16% say that someone has taken over their email accounts, and 13% say someone has taken over one of their social media accounts.
15% have received notices that their Social Security number had been compromised.
14% say that someone has attempted to take out loans or lines of credit in their name.
6% say that someone has impersonated them in order to file fraudulent tax returns.
When it comes to the ability to protect their personal data, or lack thereof, 28 percent said they were "not at all confident" in the federal government. At 24 percent, social media sites were not perceived much more favorably.
At the other end of the spectrum, 27 percent said they were "very confident" in the ability of cellphone manufacturers to protect their personal data. Another 43 percent were "somewhat confident."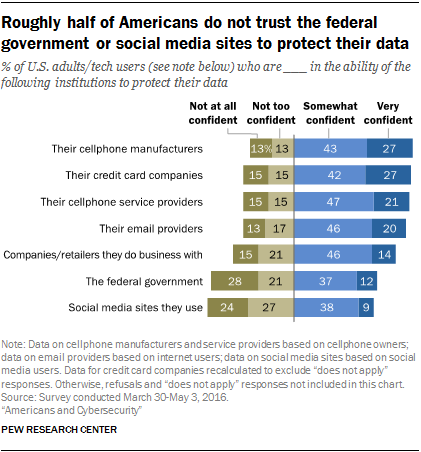 The numbers were essentially the same for credit card companies. Twenty-seven percent said they were "very confident" in credit card companies' ability to protect their personal data. Another 42 percent said they were "somewhat confident."
More broadly, half of Americans (49%) feel that their personal information is less secure than it was five years ago. Nearly one-in-five (18%) said they felt their personal information has gotten more secure in recent years. Three in 10 (31%) said they felt online security of their personal information was about the same as it was five years ago.
Older Americans (50 and older) tend to feel online protection of their personal information today has worsened in recent years. Nearly 6 in 10 (58%) in this age group said they believe their online personal data is less safe today than it was five years ago. That compares to 41 percent of those 18-49 who expressed the same belief.
Lax on Security
Confounding things, most Americans fail to follow best practices when it comes to protecting their privacy and personal data online, Pew found.
Nearly 9 in 10 Americans memorize passwords; 65 percent rely on memory exclusively. Half (49%) said they write their passwords down on paper; nearly 4 in 10 (18%) do this exclusively.
Furthermore, 1 in 4 (24%) said they save their passwords in a note on a computer or mobile device. Six percent said they use this technique exclusively. Twelve percent said they rely on a password management program, 3 percent exclusively.
In addition:
41% of online adults have shared the password to one of their online accounts with a friend or family member.
39% say that they use the same (or very similar) passwords for many of their online accounts.
25% admit that they often use passwords that are less secure than they'd like, because simpler passwords are easier to remember than more complex ones.
Nonetheless, most Americans surveyed by Pew weren't very worried about cybersecurity threats in their personal lives or in their expectations for various public institutions.
Regarding the former, 7 in 10  online adults (69%) said they did not worry about how secure their online passwords are. That's more than double the share (30%) that admitted to having worries about their personal password security.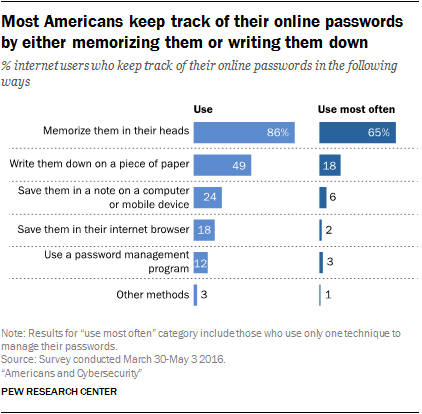 Paradoxically, Americans who had been victims of major data breaches in general were no more likely than average to take additional steps to secure their passwords.
In terms of society-wide aspects of cybersecurity, 7 in 10 Americans expect major cyberattacks on public infrastructure will occur in the next five years. Two-thirds (66%) believe banking and financial systems will suffer cyberattacks.
In contrast to protecting their personal data, sizable majorities believe the U.S. government is at least somewhat prepared to handle cyberattacks on our public infrastructure (62%) or government agencies (69%). Six in 10 (61%) have some confidence that U.S. businesses are prepared to handle attacks on their own systems.
That said, Olmstead and Smith note that Pew's latest survey was fielded before the hacking of the DNC and Yahoo email systems.
Image courtesy of flickr user Defence Images.