Connected device apps are increasingly important in driving OTT engagement, now accounting for more than one quarter of total OTT video subscriptions, according to new market research conducted by Parks Associates for Ooyala.
Apps available via connected devices are the second most popular means subscribers use to access OTT video services. OTT websites are the most popular, according to ¨Connected Apps: The New Battleground for Video Services.¨
More than one-quarter of total OTT video subscriptions now derive from apps available on streaming media players, game consoles and connected TVs, Parks found.
"This finding reveals the increasing importance of connected devices as a channel for revenue generation,¨ Parks' Senior Director of Research Brett Sappington was quoted as saying. ¨OTT video services continue to lead pay-TV providers, broadcasters, and cable networks in use of connected apps to deliver content to the television.
¨Lacking a presence on a connected device is essentially ceding the market to others. As competition for video services becomes more intense, companies are adding support and enhancing their apps for connected devices."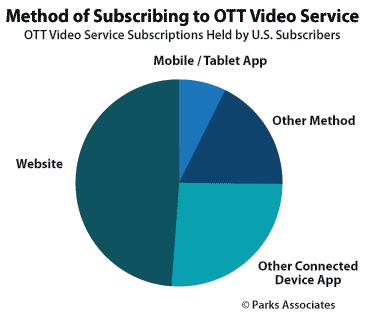 Total OTT Video Subscriptions
Hulu is benefiting most from connected app usage. Approaching 4 in 10 Hulu subscribers (37%) use connected device apps to sign up for the streaming OTT video service. Correspondingly, 28% of market leader Netflix's subscribers sign up by using connected device apps.
Parks forecasts that OTT subscription service revenues will double from 2015-2020, rising from $15 billion to $30 billion. Market players have invested a lot of money and devoted a lot of time and effort to enter the market, which serves as a hurdle as they strive to recoup their investments, Ooyala co-founder Belsasar Lepe commented.
"Connected apps are no longer a way to stand out from the crowd – they are essential for survival," Sappington added. "In an increasingly competitive environment, greater reach and exposure give companies the chance to capture attention and revenues."
Image courtesy of flickr user Kirill Kniazev.