Now that AT&T's divestiture of WarnerMedia is imminent and the company has revamped its strategy, a key element of that strategy is to be "America's best broadband provider," said CEO John Stankey on a virtual investor conference webcast today.
Expanding fiber broadband capable of multi-gigabit symmetrical speeds will underpin that strategy. The company plans to double its fiber footprint by 2025, when it will have fiber broadband available to 25 million consumer locations, 4 million small businesses and 1 million enterprises.
"Wherever fiber goes, wireless follows," said Jeff McElfresh, CEO of AT&T Communications, at today's event.
Another key element of the new AT&T strategy is 5G, which will be supported by dense fiber infrastructure. Unlike competitors Verizon and T-Mobile, however, fixed wireless access won't play a big role in AT&T plans.
McElfresh offered a veiled challenge to those competitors when he said, "We're not attempting [to support] terabytes of monthly consumption using wireless. We chose to preserve wireless spectrum assets to remain competitive for high-value wireless transactions."
By "wireless transactions," he apparently meant mobile transactions, echoing a recent independent financial analysis that showed mobile service having substantially better margins than fixed wireless.
The terabyte reference is based on AT&T's forecast for average household broadband data consumption to jump from 900 gigabytes today to 4.6 terabytes by 2025.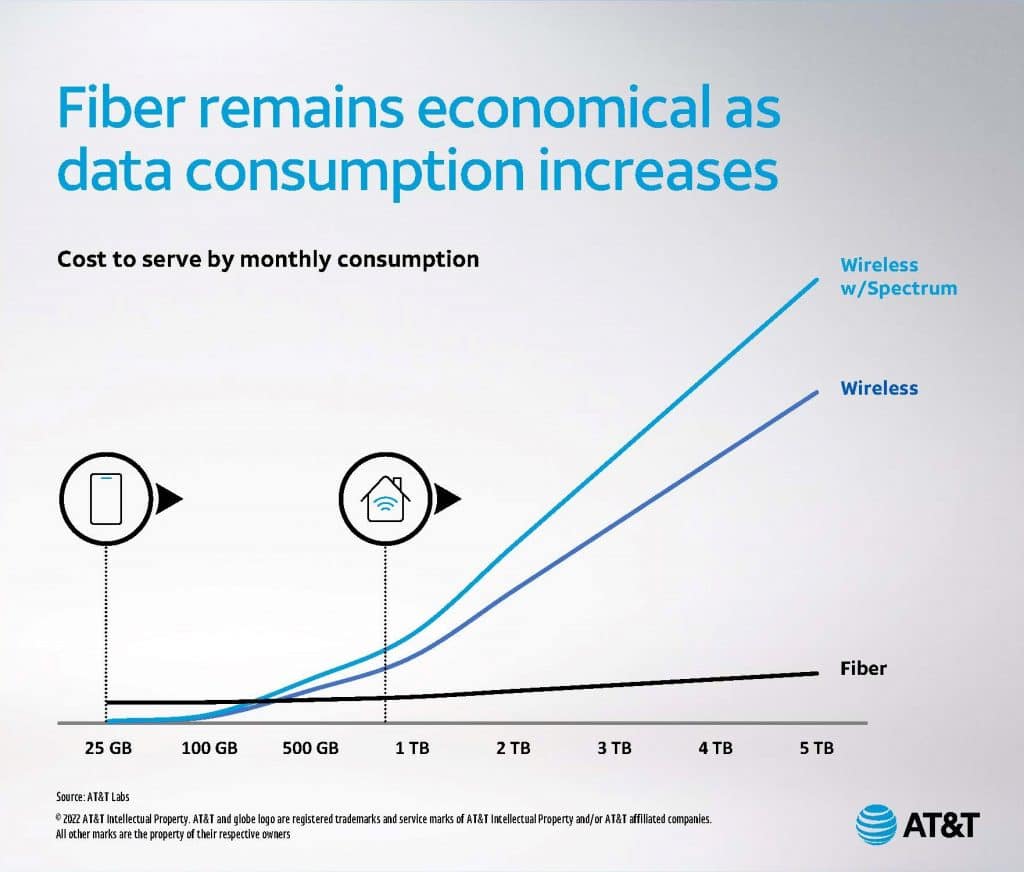 AT&T Broadband Strategy
McElfresh also shared data about the fiber market opportunity.
Today there are 50 million urban and suburban households and 10 million businesses that could use fiber broadband but do not have it available to them, offering a "strong growth vector," McElfresh said.
He also argued that "as we continue to scale our current fiber build and the more we complete, the more economical it gets – the capital investment per location is lowered with densification, while returns improve with penetration."
And while AT&T's fiber deployments to date have focused on the company's traditional local landline service footprint, that's beginning to change a little bit and could change more in the future.
"Edging out from our traditional footprint" to adjacent areas is something AT&T is already doing, although "we don't advertise it," Stankey said.
The company would consider fiber deployments farther away from its traditional footprint if there was a business case for it, Stankey said, noting that government subsidy programs could play a role there.
The company already has had some success in picking up build areas through current federal programs and has set up an organization focused on looking at where it might make sense for the company to pursue future subsidies, he noted.