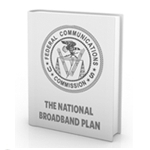 Five years after Blair Levin (then with the FCC) and his team completed the National Broadband Plan, significant progress has been made in meeting some of the plan's goals, including freeing up spectrum for broadband, said Levin in an interview yesterday. Some other areas, including improving broadband adoption, have gotten less traction, according to Levin.
"We should look at [this] as part of a process, not a final product," said Levin.
National Broadband Plan
Adopted in 2010, the 300-page National Broadband Plan offers a range of ideas about how to increase broadband availability and adoption. It also includes shorter-term and longer-term goals.
According to Levin, the plan involved four core strategies:
Use spectrum more efficiently
Driving fiber deeper into the network
Use the platform to better deliver public goods and services, which Levin refers to as "national purposes"
Get everyone onto broadband
Levin was enthusiastic about progress on spectrum goals. At the time his team was working on the NBP, Levin said "there was no new spectrum available." But today he said it looks like the FCC will meet the plan's goals for freeing up additional spectrum. The plan called for 300 MHz of spectrum to be freed up within five years.
Levin pointed to the recently auctioned AWS-3 band as spectrum that was made available after the NBP. He also praised the work of the President's Council of Advisors on Science and Technology (PCAST)  to find spectrum in government hands for re-purposing and he pointed to plans for spectrum sharing in the 3.5 GHz band as another important achievement.
With regard to driving fiber deeper into the network, Levin said "the big news is what cities have been doing" – a reference to the success that dozens of communities have had in persuading Google and traditional carriers to build ultra-high-speed broadband networks. Since leaving the FCC after the NBP's publication, Levin's efforts have been largely focused in this area, where he heads up the Gig.U initiative to bring gigabit networks to university communities.
National Purposes and Adoption
As for using broadband for national purposes, Levin said in an address at the Georgetown Center for Business and Public Policy yesterday that there have been "some real unheralded successes." He pointed to efforts underway at the Office of Science and Technology Policy and also noted efforts to use the volumes of data that various arms of government are collecting to improve public services.
With regard to digital adoption goals, Levin said, "The imperative of getting everyone on [broadband] is increasing. I don't know how to improve education and healthcare without it."
But Levin believes the effort required to achieve wide-scale broadband adoption initially was underestimated.  "The Digital Divide is something we used to think of as binary." The attitude, he said, was that if broadband were available people would use it. But today he said it has become clear that broadband adoption will result from "a combination of not only networks and devices but training and other things."
In the Georgetown Center address, Levin said of the adoption issue that "we require fresh approaches by government and others."