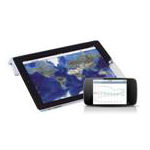 Nearly three of every four developed country residents have access to wireless broadband services, according to the latest, December 2013, data from the Organization for Economic Co-operation and Development (OECD), a global economic development focused organization.
Wireless broadband penetration across the 34-member nation OECD had reached 72.4 percent as of last December, a year-over-year increase of 14.6 percent. U.S. wireless broadband penetration reached 100 percent by the OECD definition, which they define as at least one wireless broadband subscription for every inhabitant in the country (total number of subscriptions equals the total population of inhabitants). The OECD data aggregates mobile wireless, fixed wireless, and satellite broadband subscriptions into a single category of wireless broadband.
Ongoing strong demand for smartphones and tablets has fueled wireless broadband expansion. A total of 910 million people in OECD countries now have access to wireless broadband services, OECD states in a news release.
Wired Broadband Subscriptions
The latest statistics on fixed wired broadband subscriptions for OECD countries stands out in stark contrast. Fixed wired broadband subscriptions totaled 339 million, a penetration rate of 27 percent. Switzerland, the Netherlands and Denmark continued to lead OECD nations in this regard, with fixed wired broadband penetration rates of 44.9 percent, 40.4 percent and 40 percent, respectively.
DSL remains the predominant mode of delivering fixed broadband subscriptions, at 51.5 percent. FTTP continues to gradually replace DSL, however, accounting for 16.7 percent of fixed broadband subscriptions as of December 2013. Cable, at 31.2 percent, made up the remainder.
Japan and South Korea remained the OECD nations with the highest fixed broadband penetration rates at 69.9 percent and 64.6 percent, respectively. Double-digit growth rates in overall OECD fixed broadband continued, driven primarily by expansion in large OECD economies with low penetration levels. These included France (66 percent), Spain (74 percent), Turkey (73 percent) and the U.K. (108 percent).
Data and charts for the OECD's December 2013 broadband statistics are available on the OECD Broadband Portal.