New data from OECD (Organization for Economic Cooperation and Development) reveals a mobile broadband penetration rate of 95% in the 35 industrialized nations that comprise the OECD as of June 2016. The number increased from 86% in June 2015.
Some 123 million new mobile broadband subscriptions were added in OECD member countries from June 2015-June 2016, an 11.3 percent annual gain, according to OECD.
The large upswing in mobile broadband subscriptions over the 12-month period brought cumulative total subscriptions for OECD nations to 1.214 billion. The best estimate for their combined population is 1.27 billion.
Mobile Broadband Penetration
Mobile broadband penetration per 100 people now exceeds 100 percent in 12 OECD nations, up from nine a year ago. In descending order, the nations are: Japan, Finland, Sweden, Denmark, the U.S., Estonia, Australia, Korea, Norway, Iceland, New Zealand and Switzerland.
Fixed broadband penetration is much lower, according to OECD. According to OECD's just released official market data, there were 380 million fixed broadband subscriptions in OECD nations as of June 2016, up from 363 million 12 months earlier. That put average penetration per 100 at 29.8 percent, up from 28.6 percent as of June 2015. The OECD only appears to have counted relatively high-speed subscriptions as fixed broadband, however.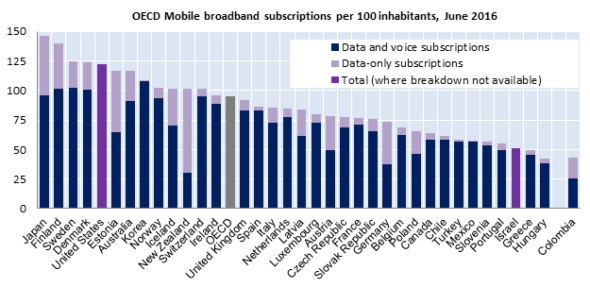 According to OECD, Switzerland had the highest fixed broadband subscription penetration among OECD members  at 51%. But FCC data shows that 90% of people in the U.S. can get broadband at speeds of 25 Mbps, suggesting that OECD must have used a considerably higher speed definition for fixed broadband.
In terms of fixed broadband networking, DSL remained the most prevalent technology, accounting for 44.7 percent of overall service subscriptions. However, fiber is catching up fast as fiber broadband subscriptions surged 16 percent higher in the 12 months to June 2016 to account for 20.1 percent of OECD fixed broadband subscriptions per 100. At 32.2 percent, cable broadband subscriptions accounted for most of the remainder.
It should be noted that OECD's data is based on advertised broadband speeds and is set at a rather low 256 kbps for mobile broadband subscriptions, however.
Comparing advertised and actual broadband speeds in the U.S., the FCC recently determined that broadband providers are delivering the speeds they advertise, according to the federal regulatory agency's latest "Measuring Broadband America" report. DSL broadband providers were somewhat of an exception, however.
OECD researchers also delved into machine-to-machine (M2M) communications usage. M2M SIM cards are most widely used in Sweden, New Zealand, Norway, Finland and the Netherlands, according to the OECD, which notes that M2M usage data is not fully comparable across all member nations as of yet.
There were 77 M2M SIM cards in use per 100 inhabitants in Sweden, by far the highest percentage among OECD member nations. Overall, M2M/embedded mobile cellular subscriptions surged nearly 20 percent higher from June 2015-June 2016 in countries where data was available.
More data, statistics and information are available via the OECD's Broadband Portal.
Joan Engebretson contributed material to this report.
Image courtesy of flickr user Kirill Kniazev.