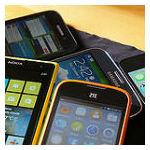 Music and video content aren't the only types of digital consumer products subject to piracy. Increasing numbers of counterfeit mobile phones and video games also are being found. Nearly one in five mobile phones and one in four video game consoles shipped internationally are fake, according to a new report from the Organization for Economic Co-operation and Development (OECD).
Counterfeit smartphone batteries, chargers, memory cards, magnetic strip cards, solid state drives and music players are also showing up in growing numbers on markets worldwide, according to OECD's "Trade in Counterfeit ICT Goods."
OECD's best estimate pegs trading in counterfeit products at 6.5 percent of the global ICT total. That's well above the 2.5 percent of all goods traded globally that are found to be counterfeit.
Counterfeit Mobile Phones
The estimates are based on OECD's analysis of customs data and the seizure of nearly half a million ICT devices and components from 2011-2013, a list that includes intermediate products, such as transistors, printed circuit boards and radio masts.
In terms of monetary value, OECD estimates the global trade in counterfeit ICT products totaled some $143 billion as of 2013. The popularity and comparatively high value of smartphones and ICT accessories make them a lucrative target for pirates and counterfeiters, OECD says.
Nearly two-thirds of the counterfeit ICT products shipped internationally were shipped by express and postal services. That complicates and makes the detection process significantly more difficult.
Taking stock across OECD's 35 member nation-states, trade in ICT products accounted for 5.5 percent of total value added in 2013 – about $2.4 trillion in monetary terms. Global exports of ICT products increased an average six percent annually from 2001-2013 to total $1.6 billion. Exports from China accounted for nearly one-third.
Publication of the report comes as OECD prepares for the 2017 Global Anti-Corruption and Integrity Forum, which is to be held March 30-31 in Paris.
Image courtesy of flickr user Jon Fingas.