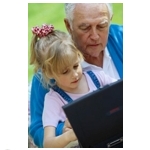 Broadband use by market segments that traditionally have lagged behind is on the rise — and gaps are beginning to close, according to the latest data from the National Telecommunications & Information Administration (NTIA). Internet usage among senior citizens rose from 51% to 56% between 2013-2015, while that for children jumped from 56% to 66%, a blog report highlights.
In addition, increases of several percentage points were registered for broadband use by African Americans, Hispanics, American Indians and Alaskan Natives.
Meanwhile, broadband use by market segments that traditionally had higher usage rates has begun to flatten. Examples of such segments include more affluent, higher educated and young adult segments of the population.
More widespread availability of mobile and Wi-Fi broadband, smartphones and other connected mobile devices have been important contributors to the gains in broadband use by segments that were lagging, the NTIA noted. That has prompted NTIA to broaden the range of data it collects, which previously had focused mainly on home connections and household usage.
Broadband Use by Market Segments
NTIA began collecting data on Internet usage via dial-up connections in homes in 1998. It then began adding different types of broadband services connectivity in 2000. Just a small fraction of the connected population still relies on dial-up connections to access the Internet today, as fixed and wireless broadband access has surged. NTIA also is focusing on collecting data regarding Internet usage at a range of locations, not just homes, the agency explained.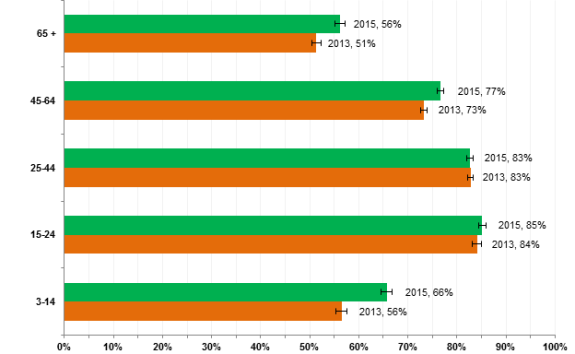 The latest NTIA data reveals that 73% of American households used broadband or dial-up Internet at home in 2015. That was essentially the same as compared to 2013, when results showed that 74% did so.
Turning to access from any location, 75% of Americans (age 3 and up) used the Internet last year, up from 71% in 2013. Use varies substantially based on age, with young and middle-aged adults going online at higher rates than children and seniors. For example, 85% of those 15-24 went online in 2015, the highest among any age group.
That said, young adult Internet usage rates were little changed between 2013-2015, while that for children and older Americans increased significantly. This and other data support the conclusion that America's Digital Divide is indeed shrinking, albeit gradually, NTIA adds.