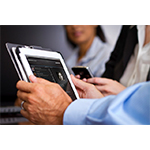 The digital divide – the difference in access between disadvantaged groups and others, is closing, according to findings from the National Telecommunications and Information Administration's (NTIA) recent survey about internet use demographics.
The research shows that Internet usage increased among American households earning less than $25,000 annually to 62% in 2017, up from 57% two years earlier. Internet usage stayed the same for households earning more than $100,000 annually. Five years ago, only 55% of households earning less than $25,000 annually accessed the Internet, compared to 91% of those earning more than $100,000 annually.
Internet Use Demographics
According to the survey, 78% of Americans ages 3 and older used the Internet as of November 2017, compared with 75% two years earlier. NTIA credits increased Internet usage by low-income families, seniors, African Americans, Hispanics, and other groups that had been less likely to go online for the increase.
Older consumers are also increasing their use of the internet, NTIA found. About 63% of those 65 and older said they used the Internet, compared to only 56% in 2015.
Among the survey's other findings:
Sixty-four percent of Americans used a smartphone in 2017, compared with 53% in 2015
Tablet use increased to 32% from 29%.
The use of wearable devices such as smart watches and fitness bands—still a nascent product category—grew significantly to 8% of Americans, from 1% two years earlier.
Smart TV and TV-connected device use grew by seven percentage points to 34% from 2015 to 2017.
Laptop use was unchanged at 46%.
Desktop computer dropped to 30% in 2017.
Multiple Device Use Becoming More Common
Americans are continuing to increase the number of devices they use. The proportion of people using at least two different types of devices increased from 52 percent in 2013 to 57 percent in 2015 and then 62 percent in 2017. The use of three or more different device types also increased substantially, from 32 percent in 2013 to 37 percent in 2015 and then 42 percent in 2017.
As many people turn to a range of different computing tools to accomplish different tasks, however, some groups are using fewer devices than others. People in higher income households are more likely to use multiple types of devices. Americans reporting family incomes below $25,000 per year on average used 1.34 different types of devices, while those with incomes of $100,000 or more used an average of 2.77 types of devices—more than twice as many.
The NTIA survey was conducted as a supplement to the Census Bureau's Current Population Survey (CPS). NTIA surveyed over 123,000 people living in more than 52,000 households in 50 states and the District of Columbia. NTIA has sponsored the CPS Computer and Internet Use Supplement 14 times since 1994.
Image courtesy of flickr user NEC Corporation of America.