The NTIA has released a draft waiver that it says will put in place what it characterizes as a "strict approach" to sourcing for the $42.45 billion Broadband Equity, Access, and Deployment (BEAD) Program. Doing so, the NTIA says, will include "a limited and targeted wavier" of Build America, Buy America requirements.
NTIA says in a blog post that it wants "close to 90%" of BEAD funding spent on equipment to be on gear manufactured in the United States.
The proposed "criteria to prioritize products targeted for onshoring:"
Strategically important technologies, like those that ensure the security, integrity, and reliability of network data, should be produced in America.
If a product's domestic manufacturing line can be scaled quickly, it should be produced in America.
And if a product—like the fiber-optic cable so critical to deploying high-speed Internet networks in communities throughout the country—comprises a significant portion of the overall network spend, it should be produced in America.
The proposal includes non-availability waivers in cases in which products are not available in a timely fashion. An example of this cited in the press release is the need for semiconductors that may not be available from domestic sources.
The blog post pointed to several companies that already have made moves in the U.S. to support BEAD. They are Nokia, Adtran, Corning, CommScope and Prysmian.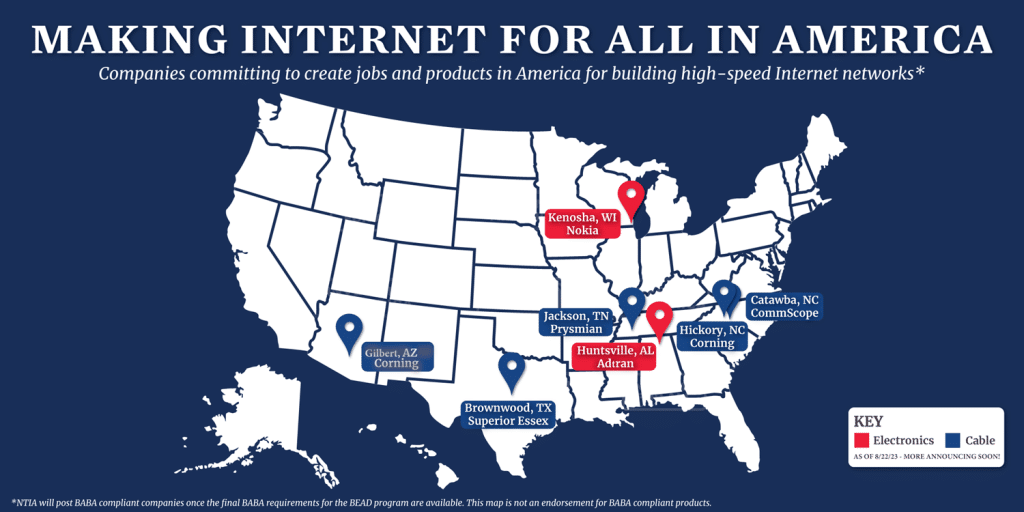 Nokia said early this month that it will use a Sanmina facility in Pleasant Prairie, WI to manufacture fiber optic broadband equipment for the BEAD program. Last week, Adtran said it will invest as much as $5 million in its Huntsville, AL facility to support the BEAD program. The two moves are expected to create 200 and 300 jobs, respectively.
Stakeholders have 30 days to comment on NTIA's draft proposal.