NTIA released a 54-page workforce planning guide for the Broadband Equity Access and Deployment (BEAD) program.
The guide is aimed at helping individual states in establishing workforce requirements involving the program. It provides additional detail about those requirements that was not included in the Infrastructure Investment and Jobs Act (IIJA), which created the BEAD program, or in the BEAD notice of funding opportunity (NOFO).
Individual states will be responsible for awarding funding for rural broadband deployments in the $42.5 billion BEAD program. But before that can happen, NTIA must approve each state's plans for making those awards. The guide aims to help states in preparing the portion of their plans involving the workforce that will enable BEAD deployments.
The guide also offers similar advice for the states as they prepare their plans for administering the State Digital Equity Capacity Grant Program, which was also created in the IIJA and will be administered by individual states.
According to an NTIA press release, the deployment and equity programs will create over 150,000 good-paying jobs.
NTIA BEAD Workforce Requirements
The BEAD NOFO directs states to prioritize funding applications from network operators that commit to advancing equitable workforce development and job quality objectives and that can demonstrate compliance with federal labor and employment laws or that have no track record but commit to doing so.
The new BEAD workforce planning guide provides considerably more detail about those requirements. It also offers a useful timeline for state agencies responsible for preparing a BEAD plan. The timeline breaks the workforce element of the BEAD plan into individual components, then plots those components against key filing deadlines to help the agencies sequence their activities and keep them on track.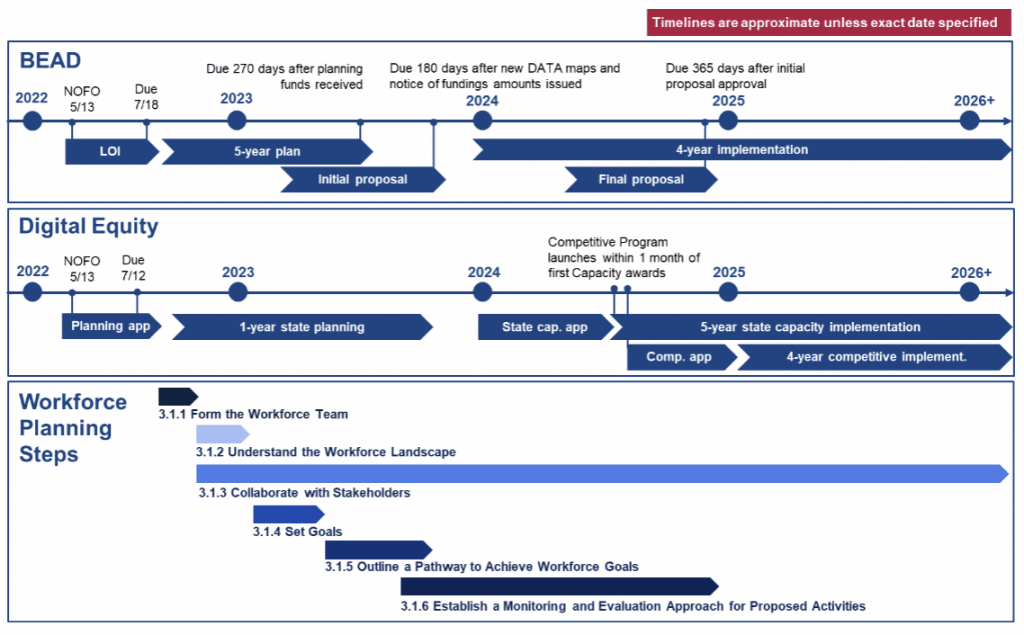 The guide also includes a list of useful resources and some pertinent real-world examples that state agencies might want to draw upon, such as:
The fiber training program created by the Fiber Broadband Association
The Louisiana GUMBO broadband funding program, which prioritized subgrantee hiring requirements for local graduates from telecom technical programs in the area
The NTCA Women in Telecom Program, which includes a mentorship component
Verizon and GenerationUSA offer free online technical training and help place students in technical roles
The Montana registered apprenticeship program
Warriors4Wireless, which develops career pathways for veterans