More than a quarter (25.3%) of customers served by rural telcos have gigabit broadband availability, according to a new report from NTCA – The Rural Broadband Association. That number is up slightly from 23.4% in 2018.
Another 35.5% of rural telco customers have broadband at speeds between 100 Mbps and 1 Gbps available to them – up from 33.9% a year ago.
The NTCA broadband availability data comes from a survey of NTCA members, made up primarily of traditional telcos who have transitioned to broadband service providers. NTCA members serve very rural territory with a mix of broadband technologies including FTTH, DSL, DOCSIS, and even fixed wireless. More than a third of the organization's 800+ members responded to this year's survey.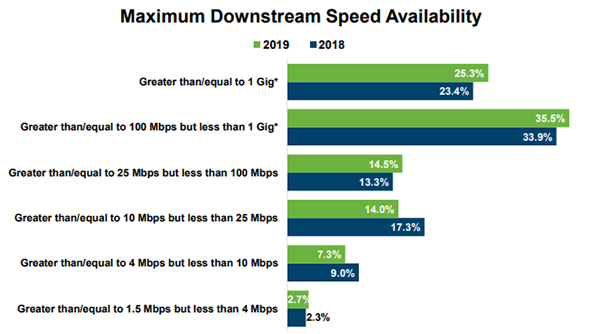 Broadband Adoption by Speed
The broadband speeds to which rural telco customers subscribe also increased between 2018 and 2019. Only 3.5% of customers currently subscribe to gigabit service, but that's up substantially from 2018, when 2% subscribed to gigabit service.
The percentage of customers subscribing to service at speeds between 100 Mbps and 1 Gbps also increased – from 13.7% in 2018 to 14.6% in 2019. And the most dramatic increase occurred for services with speeds from 25 Mbps to 100 Mbps. That percentage jumped from 24% in 2018 to 32% in this year's survey.
Policy Impact
FCC actions aimed at making it easier for rural telcos to offer standalone broadband seem to be paying off. Nearly two-thirds (63.6%) of respondents now offer standalone broadband, compared to 50.6% in 2018.
At a time when policymakers are increasingly focused on making broadband available to all Americans, another interesting area explored in the NTCA report is members' estimate of what it would cost to upgrade parts of their territories that currently lack high-speed broadband.
On average, respondents estimate that it would cost approximately $28.7 million to bring customers who are not already at 100 Mbps (downstream) up to that speed. The average total estimated cost to bring customers up to 25 Mbps downstream is $22.2 million.
Anchor Institutions, Video
Other key findings from NTCA's 2019 Broadband/Internet Availability Survey Report:
Rural telcos play an important role in serving anchor institutions such as public libraries and schools. The mean percentage of public libraries served was 82.7%, including 72.9% that are connected by fiber. The mean percentage of schools was even higher, at 86.2%, with 80.2% connected by fiber.
Offering video services remains challenging, with 85.2% of respondents citing programming costs as a barrier. More than a third (34.8%) of total operating expenditures go toward retransmission consent fees, up from 33.6% in 2018. And providers are more likely today to pass retransmission fees on to customers. More than three quarters (76.5%) passed those fees on in 2019, compared to 68.5% in 2018.
Image courtesy of flickr user Sean MacEntee.