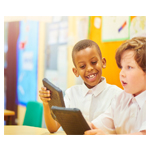 More than three-quarters (82.4%) of K-12 schools in areas served by rural telcos are connected to the internet over fiber-to-the-premises (FTTP) infrastructure, according to a new survey of rural telco members of NTCA – The Rural Broadband Association. The NTCA rural anchor institution fiber connectivity report also found that 75.9% of hospitals and medical clinics and 63.9% of public libraries in respondents' serving areas are FTTP-connected.
A substantial portion of these rural anchor institutions – 58.7% of schools, 55.6% of hospitals and medical clinics and 41.3% of libraries – have speeds of 1 Gbps or higher available to them.
Rural Anchor Institution Fiber Connectivity
Not all anchor institutions subscribe to service at the maximum speeds available to them, however.
The percentage of schools purchasing gigabit speeds or higher was 10.4%. For hospitals and medical clinics, that number was 7% and for libraries, it was 1.2%.
Rural anchor institution fiber connectivity has seen substantial gains since NTCA conducted a similar survey in 2013. At that time, the average maximum speed available to schools was 912.2 Mbps but today it is 1156.8 Mbps. For hospitals and medical clinics, the number climbed from 393.8 Mbps to 734 Mbps and for libraries, it increased from 248.1 Mbps to 454.3 Mbps.
The speeds that anchor institutions purchase also have increased. In 2013, rural schools purchased service at an average speed of 128.4 Mbps. That number has now increased to 238.7 Mbps. For hospitals and medical clinics, that number increased from 16.3 Mbps to 128.7 Mbps and for libraries, it increased from 13.9 Mbps to 43.3 Mbps, the report found.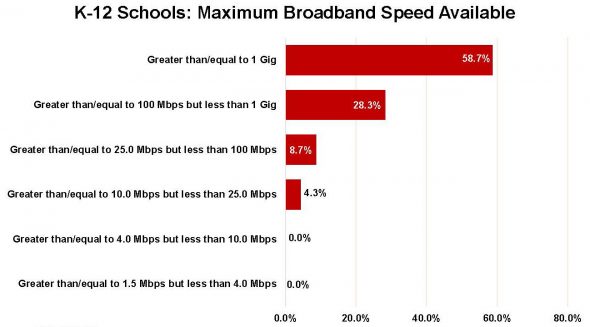 It's important to note that rural anchor institution fiber connectivity is likely higher in areas served by NTCA members in comparison with rural areas served by the nation's largest local telecom service providers. NTCA members are more locally focused than the large publicly-owned companies and in many cases are member-owned cooperatives that are willing to invest substantially in broadband without immediate returns. Historically, small rural telcos also have been more adept at tapping public funding sources such as the Universal Service Fund, the broadband stimulus program or the Rural Utilities Service grant and loan program to cover some of their deployment costs. In contrast, the larger publicly-held price cap carriers are wary of investing in rural areas, in large part because they see greater returns in other lines of business such as wireless and enterprise.
NTCA Chief Executive Shirley Bloomfield noted this dynamic in a prepared statement about the rural anchor institution fiber connectivity report. "Small, rural broadband providers have leveraged a mix of community commitment, entrepreneurial spirit, private capital and critical programs like the FCC's High-Cost Universal Service Fund to bring connectivity to rural America, including these vital public institutions that aid the health, well-being and education of rural Americans across the country," she said. "This survey shows that many NTCA members have made significant improvements to their networks and continue to prioritize the connectivity needs of key community assets."
The FCC has given the nation's larger price cap carriers an incentive to improve their rural broadband connectivity through the Connect America Fund program. The target speeds for that program are quite low, however, and carriers can meet them without bringing fiber all the way to a customer location but only part way to the customer – an option the carriers undoubtedly will choose in areas where deployment economics, even with CAF funding, do not justify FTTP.