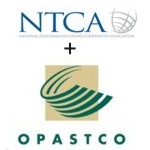 It's been talked about for years, maybe decades, and it's apparently coming true. NTCA and OPASTCO, the two leading trade associations for small, rural telcos have announced a merger. "Our boards of directors have decided it's time," says a press release announcing the deal. The merged association will be based in Washington DC.
Negotiations have apparently been ongoing for months. The new organization will be called NOTASCO, or National Organization of Telecommunications Advocates for Small Companies. Doesn't exactly roll off of the tongue, but whatever works. No word yet about association leadership. "As we enter the new phase of broadband, our industry is strengthened by a unified approach to promotion and advocacy for small, rural broadband providers," says NTCA and OPASTCO in the joint press release.  Sounds so good, it almost feels like we wrote that quote ourselves.
Due to the complex nature of the merger, including important issues like meeting locations, the merger isn't expected to close until April 1, 2011.
Update: Glad to see so many people having fun with this April Fools Day joke. I think our industry could use a laugh every once in a while. Hopefully this story brought you one.