Small, rural telecom providers increasingly are serving their subscribers with deep fiber infrastructure despite concerns about the cost of deploying such services, according to a rural fiber deployment survey released by the NTCA-The Rural Broadband Association.
Eighty-nine percent of survey respondents said that the cost of fiber is the primary barrier to their entry into the market, according to the report. However, many operations are making that investment. Just over half (52 percent) of respondents that are currently deploying fiber serve at least half their subscribers with fiber-to-the-home (FTTH). The organization also found that 82 percent of responding companies have a long term fiber deployment strategy, while 31 percent already serve all their customers with fiber.
Rural Fiber Deployment
Thirty-nine percent of respondents with a deployment strategy plan to bring fiber-to-the-node to more than 75 percent of their customers by the end of 2019 and 66 percent plan to offer FTTH to at least half of their customers by the same time.
All that fiber is leading to higher speeds. The survey found that 67 percent of respondents' customers have access to 25 Mbps downstream speeds, with another 20 percent able to download at between 10 Mbps and 25 Mbps.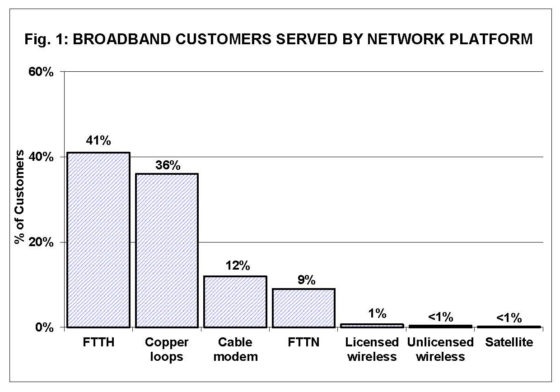 "NTCA members are the proven broadband solutions providers for their communities, living in the communities they serve and providing critically important broadband service to community anchor institutions," said NTCA Manager of Economic Research and Analysis Rick Schadelbauer, the report's author. "In so doing, they make significant contributions to the safety, health and overall well-being of their customers. Their service helps facilitate the overall viability of rural America."
The survey report offered four main conclusions:
Respondents' customers are subscribing to faster broadband speeds.
While concerns about regulatory uncertainty have eased somewhat, they remain substantial.
The pursuit of reasonably-priced video programming remains a nearly-universal struggle.
Survey respondents provide critically important broadband service to community anchor institutions.
The survey, which was conducted online during the spring, drew responses from 29 percent of NTCA members.