The number of active mobile broadband devices in Americans' hands will increase 50 percent to 34 million by year-end 2015, and two-thirds of them will be tablets, according to new market research from The NPD Group.
USB stick modems were the #1 mobile broadband device until year-end 2012, driven primarily by enterprise demand, and standalone mobile hotspots grew in popularity in 2011 and 2012. The popularity of both types of mobile broadband devices has declined substantially since, however, "as more consumers are utilizing the hotspot features of their tablets and smartphones," NPD highlights in a press release.
Today, tablets account for 40 percent of mobile broadband connections. Carriers will have to boost adoption of connected tablets as use of mobile hotspots and USB sticks decline. With the shift, the price of embedded cellular tablets should decline rapidly, according to NPD's "Connected Intelligence Mobile Broadband Market Share and Forecast Report."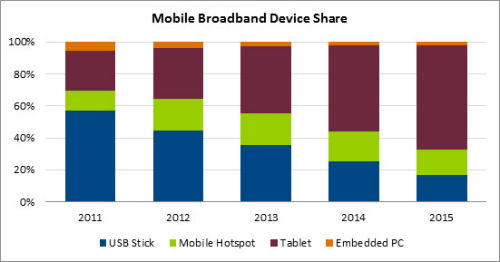 "Tablets are the next subscriber battleground for the carriers," NPD director, Connected Intelligence Brad Akyuz was quoted as saying. "The decline in ASPs, coupled with the intensified pricing competition, will further boost connected tablet adoption in the coming years.
"AT&T currently leads in active tablets connections, but we anticipate Verizon Wireless will surpass AT&T by the end of 2015. While all of this is great news for consumers who want an always-on tablet, it could drive the carrier market back into a subsidized device model just as this is beginning to fade for smartphones." We may see a rise in tablet subsidies as a result.