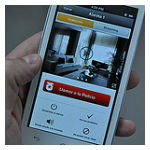 U.S. Internet users are increasingly turning to smartphones and voice command applications in order to control and otherwise make use of smart home devices and apps, according to the latest market research from The NPD Group Connected Intelligence ¨Connected Home Automation Report,¨ which found strong interest in smart home voice control.
Sales of home automation products rose 41% year-over-year in 2015, according to NPD's Retail Tracking Service. Nearly two-thirds of smart home product owners use smartphones to control or monitor these devices, NPD highlights in a news release.
More than 7 in 10 respondents (73%) make use of voice commands to communicate with smart home products. Six in 10 (61%) said they were interested in making wider use of voice commands to control or monitor more products in their homes.
NPD's Retail Tracking Service gathers data and calculates metrics about smart devices such as thermostats, power devices, sensors, lighting, security/monitoring, and locks.
Interest in Smart Home Voice Control
Fostering greater smart home app usage, nearly all smart home automation devices can be controlled and/or monitored via Android and iOS-based devices, the two dominant smartphone OS platforms, NPD Connected Intelligence executive director John Buffone noted. "As apps and devices become more intuitive, voice recognition – and thus, voice control – will begin to play a more prominent role in the further development of the smart home," he added.
Amazon's Echo technology illustrates the trend towards greater compatibility and integration of smart home apps and devices, NPD points out. Amazon's voice control technology enables users to control a range of smart home devices, including Philips Hue lightbulbs and Ecobee connected thermostats.
Advances in smart home-related IoT technology that enhance compatibility and integration of products from a variety of vendors are enabling development of new smart home device and network management platforms. Last month, Bluetooth SIG introduced an IP-based network architecture and toolkit that enables developers to construct Internet gateways that enable Bluetooth-enabled wireless sensors and other household devices to interconnect to cloud services platforms.
The new connected home network architecture and toolkit address dissatisfaction among consumers and Bluetooth developers regarding the lack of compatibility between smart home devices and apps from different vendors.
Strong desire on the part of leading connected home industry participants, i.e. Apple and Google, to dominate the market by developing ecosystems of products and services based on their own proprietary standards is constraining growth, according to recent market research from Argus Insights. Argus researchers found that connected home device users were frustrated by a lack of interoperability. Furthermore, survey participants were more satisfied with Amazon Echo in that regard as compared to the Apple Homekit or Google Works.