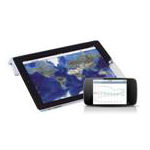 Retail sales of consumer electronics (CE) technology fell for the second year running in 2012, declining 2% to nearly $143 billion following a drop of less than 1% in 2011, according to The NPD Group.
Sales of consumer tech for the industry sector as a whole have dropped some $4 billion since 2010, according to NPD, which nonetheless sees a silver lining to these dark clouds.
"While sales fell in consumer technology for the second consecutive year, there was an uptick in Q4 which is cause for optimism," NPD vice president of industry analysis Stephen Baker was quoted in an NPD press release.
"After struggles with declining categories, and increasingly saturated markets over the last few years, fourth quarter's results may be the first sign that even as a mature industry consumer technology can grow again, albeit with a very different dynamic than in previous growth spurts."
Notebooks, flat-panel TVs, smartphones, tablets, and desktop computers were the top 5 CE device categories for 2012, accounting for 53% of total sales in 2012, up from 49% in 2011. Tablet and smartphone sales were the only two to increase last year, however, posting year-to-year increases of 42% and 25%, respectively, according to NPD's data.
Notebook sales fell 9% after declining 2% in 2011; flat panel TV sales dropped 7% after a 5% 2011 decline; and desktop computer sales fell 11% following a 9% increase in 2011.
Looking at CE sales across major retailers, BestBuy, Walmart, Apple, Amazon, and Staples were the top 5 in 2012 for the second consecutive year.
Apple, Samsung, HP, Sony, and Dell were the top 5 CE brands for the year, accounting for 45% of total worldwide sales, up from 42% in 2011. Apple and Samsung alone accounted for $6.5 billion of 2012's sales total. Sales among the CE vendors making up the remainder of the sector declined by nearly $9.5 billion.
"While CE remains a dynamic industry the fact is that the stellar growth of the past few years has made growth today more difficult," Baker commented. "Most market segments have high penetration rates and the demand for additional devices is slowing, or declining. Tablets and smartphones have been able to stimulate demand for additional devices, but unfortunately it hasn't been enough, yet, to sustain positive growth trends."