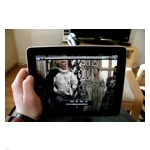 Over-the-top (OTT) connections via the Internet is the most commonly used means of accessing video content for Americans 18-34 years old with connected TVs, according to a new report from NPD Research. Three-quarters use their connected TVs or other devices to view OTT video compared to 68% who use connected TVs to watch programming delivered by cable, satellite or telecom TV service providers, according to NPD's "Connected Intelligence Applications and Convergence Report."
Eighty-one percent (81%) of those who own streaming media players use a connected TV screen to access OTT video content, the highest percentage among those surveyed. Following were those who own Blu-ray Disc players (77%), connected video game consoles (73%), and consumers whose TVs are directly connected to the Internet (66%).
"The younger consumer has come to expect a broadband experience from any screen they come in contact with, and their TV is no exception," NPD director of devices, Connected Intelligence John Buffone was quoted as saying.
"The pendulum is continuing to shift among younger viewers as each quarter we see more homes connecting their TVs to the Internet. The pace by which networks develop their digital services for the TV screen will increasingly drive brand equity, viewership, and subscriptions among the critically important under 35 demographic who has become captivated by the availability of OTT video."
The most popular OTT services being used by 18-34 year olds with connected TVs spans "a mix of subscription, free, and transactional offerings," NPD analysts note, Netflix continuing as the most popular. YouTube, Amazon Instant & Prime Video and Hulu Plus rank second, third and fourth, respectively, with Crackle, PlayStation Video and Xbox Video in a tie for fifth.
Image courtesy of flickr user bendodson.