With the CAF II auction completed, the FCC's next Connect America Fund responsibility will be to establish plans for the CAF remote area auction, which aims to help bring broadband to remote areas not currently addressed through the Connect America Fund program. And one FCC commissioner is questioning whether there is sufficient funding for that auction.
FCC Commissioner Michael O'Rielly said at yesterday's monthly commission meeting that the CAF II auction results suggest that $5 billion to $7 billion dollars would be needed to bring broadband to locations that will remain unserved after the CAF II auction. But he noted that only about $500 million remains available for the remote area auction, an apparent referen.
"That is a pretty big shortfall, right?" he asked an FCC staffer who participated in a presentation at today's meeting summarizing the results of the CAF II auction.
The staffer avoided answering the question, and certain of the assumptions behind how O'Rielly arrived at his estimated deployment cost are unclear. (His office did not respond to a request for clarification.) Nevertheless, O'Rielly raised an important question and if there is a shortfall, deciding what to do about it is likely to be a contentious issue.
CAF Remote Area Auction
O'Rielly referenced several numbers at the meeting yesterday. The $500 million he cited is apparently comes from subtracting the $1.49 billion awarded from the $1.9 billion budget that was allocated for the auction.
He also noted, correctly, that the average funding won in the CAF II auction per location was about $2,000 – a number that can be confirmed by dividing the total $1.49 billion in funding won by the 713,176 locations that will get service. The $2,000 per location is slated to be doled out over a 10-year period.
Where O'Rielly lost me was when he said 12 million people or 12 million locations in the U.S. will still be without broadband. He referenced both locations and people, and it's not clear which he meant. (The average U.S. household has about 2.6 people.) In either case, it's not clear where the 12 million number came from or how he used it, in combination with the $2,000 average winning bid, to arrive at the estimate of $5 to $7 billion to reach the unserved locations.
Equally importantly, his number differs dramatically from the official FCC line, at least regarding the CAF program.
According to FCC officials who presented at yesterday's meeting, a total of 974,223 locations were eligible for the auction, and 713,176 of those locations received winning bids, which leaves 261,047 locations without a winning bid. (The auction included parts of price cap carrier territories where the incumbent carrier declined support, along with the most remote 1% of locations, which were omitted from the offer to the price cap carriers.)
The 261,047-location number is a lot lower than 12 million — or even 4.6 million (if O'Rielly meant 12 million people, not 12 million locations.)
A possible explanation relates to ongoing concerns that some stakeholders have expressed about the FCC's data about served and unserved areas. Some believe the FCC has underestimated the number of locations that can get broadband at the minimum rate established by the commission of 10 Mbps downstream and 1 Mbps upstream.
Is the estimate off by that much? Was O'Rielly offering an alternative estimate?
Budget Issues
Even if the numbers presented by FCC staffers yesterday are correct and there really are only 261,047 locations to which no one is on tap to bring broadband, it's not yet possible to say if there will be sufficient funding for the CAF remote area auction.
For starters, it's not clear what the budget for that auction will be. The FCC initially allocated $100 million annually for remote areas but O'Rielly's comments yesterday suggest the commission might try to get by on just the $500 million not awarded in the CAF II auction, potentially to be spread over 10 years.
Another concern is that the average $2,000 awarded per location in the CAF II auction may not be a good indicator of what will happen in the remote area auction — for a couple of reasons.
First, we would expect the amount of funding needed per location to be higher for locations remaining in the remote area auction, simply because they didn't receive winning bids in the CAF II auction. But on the other hand, CAF II auction results were impacted to some extent by a weighting system that favored bids to deliver higher-speed and lower-latency service. Potentially the FCC could attempt to stretch the remote area budget by doing away with or changing that weighting system – although there would certainly be an uproar from certain stakeholders were that to occur.
Moving Forward
The CAF II auction was quite successful on several dimensions. Nearly three quarters of target locations received winning bids. And many areas will get 100 Mbps or even gigabit service.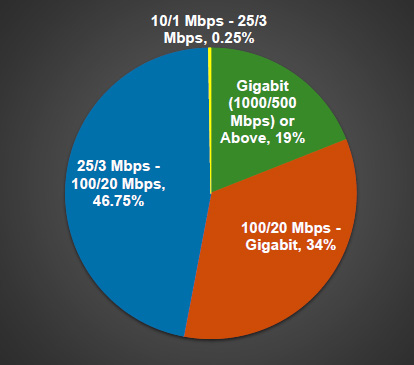 But it's not a foregone conclusion that the CAF remote area auction will be equally successful. Instead, success will likely depend on stakeholders being vigilant and diligent in raising issues such as the ones discussed here and advocating for appropriate solutions to every issue.