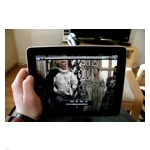 The pay-TV industry's response to the OTT video threat, TV Everywhere, is hitting a rough patch. Larger service providers like Comcast and Time Warner Cable have long coveted the strategy, which aims to give access to subscription video packages across multiple devices like smartphones, laptops, and tablets. Why turn to Netflix or Hulu, when you can get access to all of your video through your cable service provider everywhere, is the thinking behind TV Everywhere.
But the rough patch is a significant hurdle to overcome, and it involves rights to content – that thorny issue that seems to rear its ugly head quite consistently. Latest news is Time Warner Cable's latest TV Everywhere service, their TW Cable TV App, which allows viewing of select cable channels on a customer's Apple iPad inside their home, is facing a legal challenge. Numerous outlets are reporting that TW Cable is getting resistance from programmers and even receiving cease and desist orders. Variety reports lawsuits are just 'days away.'
The brewing conflict illustrates the challenge TV Everywhere has before it becomes reality. Video service providers want the capability, but programmers want a very slow approach, so they can figure out this quickly evolving digital distribution marketplace.
They are wrestling with really one thing – which approach will make them the most money (or is it maybe lose them the least?). Can they make more money by extracting more licensing fees from video service providers for the rights to TV Everywhere; or will they make more money going directly to consumers with their own 'apps,' bypassing video service providers? Perhaps it's a hybrid of both.
Whatever the case, TV Everywhere will probably be slower to market than many had hoped, as all of this gets sorted out. Meanwhile, companies like Apple, Google, and Boxee are busily working to develop a model which bypasses all of these headaches. Stay tuned.
Image courtesy of flickr user Ben Dodson.