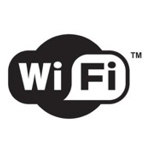 White spaces broadband uses the wireless airwaves 'between' television channels that are now available for other uses, thanks to the transition to digital TV. The first deployment of broadband technology using TV white spaces occurred just last week in Wilmington, N.C.
But white spaces broadband isn't a real catchy phrase, so some people in the industry have begun to use the term super Wi-Fi, due in part to the notion that white spaces broadband is a 'souped up' version of Wi-Fi, with greater range for broadband access than today's ubiquitous Wi-Fi.
One potential snag in that characterization – the WiFi Alliance which has trademark rights to the term Wi-Fi doesn't like the approach. "The Wi-Fi Alliance supports efforts to use the unlicensed spectrum known as Television White Spaces to expand connectivity. However, there is currently no Wi-Fi technology that operates in this spectrum," said Wi-Fi Alliance Marketing Director Kelly Davis-Felner in a Wi-Fi Alliance press release. "It is important that users not be misled into confusing any such technology with Wi-Fi."
The Wi-Fi Alliance goes on to make these points regarding the brewing controversy:
The technology touted as "Super Wi-Fi" does not interoperate with the billions of Wi-Fi devices in use today
Today's deployments in Television White Spaces do not deliver the same user experience as is available in Wi-Fi hotspots and home networks
Wi-Fi is a registered trademark of the Wi-Fi Alliance and the term "Super Wi-Fi" is not an authorized extension of the brand
Wi-Fi Alliance discourages the use of Wi-Fi in a manner that could confuse consumers
You wonder whether this is a classic case of the 'genie is already out of the bottle.' Super Wi-Fi may already be the defacto descriptor for white spaces broadband. Everyone in tech and most consumers will understand what that term means – maybe not the true technical details – but the experience.
Of course, maybe we're all a little ahead of ourselves, considering the first white spaces broadband network just launched last week, and there's hardly any real world evidence that the technology will deliver on its promise of a super Wi-Fi experience. Do you think White-Fi might catch on?