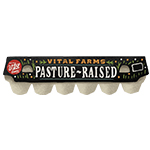 Egg and butter distributor Vital Farms wants to make egg purchases more personal. The company is using food traceability technology to provide consumers with access to 360-degree video footage of the small farms where their eggs were laid.
The company's egg cartons, which are on shelves nationally, are an effort to enable buyers to "see and appreciate" these farms, Vital Farms said in a press release. Consumers access the video by entering the name on the side of the carton they purchase at www.vitalfarms.com/farm.
"At Vital Farms, we are committed to providing food people can trust. Traceability is a natural extension of this commitment," said Russell Diez-Canseco, President and CEO of Vital Farms. "We began pasture-raised egg farming over a decade ago and want to make it possible for consumers to see and appreciate the small family farms that their eggs come from."
Vital Farms partners with about 200 farms. The videos will be updated at least twice annually to ensure that consumers are seeing an accurate representation of the current state of each farm.
IBM is also getting involved with food traceability technology. The company announced at the Consumer Electronics Show today that it has partnered with food traceability technology developer Farmer Connect on a mobile app called Thank My Farmer. The app enables drinkers to trace their coffee's quality and origin and possibly support the farmers who are responsible for it. The app uses the IBM Blockchain and was developed for coffee supply chain companies including Beyers Koffie, The Colombian Coffee Growers Federation, ITOCHU Corporation, Jacobs Douwe Egberts, The J.M. Smucker Company, Rabobank, RGC Coffee, Volcafe, Sucafina and Yara International.
There are many agricultural use cases for emerging technologies beyond these two breakfast staples. Last April, the U.S. Department of Agriculture said that deployment of e-Connectivity and Next Generation Precision Agriculture Technology on farms and ranches throughout the U.S. could result in at least $47 billion in national economic benefits every year.
An example of the potential of such initiatives is illustrated by a pilot conducted in 2018 by C Spire in Mississippi. The provider found that net revenue per acre for soybeans increased by $94.90 using precision agriculture, while water usage declined by as much as 27%. Net revenue per acre of corn increased $24.92 and water usage declined by up to 55%.