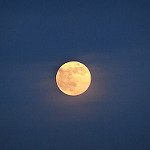 "Ubiquitous" is one of those words with which the telecom industry is extremely familiar. The term (which is almost as commonplace in the telecom business as "end-to-end," "seamless" and "robust") implies complete coverage, as in "LTE is ubiquitous in Singapore." But in the future, we may need to expand our concept of "ubiquitous," as a new blog post from Nokia about the company's involvement in an LTE lunar wireless network (you read that right) illustrates.
LTE Lunar Wireless Network
Nokia will be working with global wireless carrier Vodafone on an LTE network to support a moon mission planned for the second half of 2019. The mission is being undertaken by Berlin-based PTScientists. Plans are for a spacecraft to transport two lunar rovers developed by Audi to the moon, where the rovers will gather scientific information and shoot high-definition video, which will be transmitted to the spacecraft via the lunar LTE network.
The Nokia blog post  points to the lunar LTE network as one example of cutting edge technology initiatives the company is involved in. Another example referenced in the blog post that could cause us to rethink the concept of ubiquity is the company's involvement in Project Loon, Google's project that uses gas filled balloons as cellsites and which played a key role in supporting communications when Hurricane Maria destroyed a large part of the communications infrastructure in Puerto Rico.
Project Loon required Nokia to develop cellsite equipment that could be put into the balloon and that could run solar panels and batteries – a challenging task, the blog post notes.
A third development that Nokia is involved in and that also pushes the boundaries of where networks reach is a project with Deutsche Telekom to provide broadband connectivity over the entire European airspace. Nokia and DT are equipping hundreds of commercial aircraft with the technology, which according to Nokia uses "an LTE approach."
Between these three projects, Nokia notes that "[o]ur vision is for a massive broadband deployment – across the skies of the world, from the ground through lower and upper air space to low earth orbit and space: home-style and mission-critical everywhere."