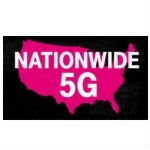 Nokia, Ericsson, and  T-Mobile said today that they will work together to build T-Mobile's national multi-spectrum 5G network. T-Mobile plans include building out the network to 30 cities this year, with customers in New York, Los Angeles, Dallas, and Las Vegas experiencing 5G on smartphones early next year.
The Nokia, T-Mobile agreement calls for Nokia to provide radio access network (RAN) support for T-Mobile's 4G and 5G subscribers on its existing LTE network. Ericsson also will provide equipment for the rollout.
"We are excited to work with T-Mobile for their groundbreaking nationwide 5G rollout," said Nokia's President and Chief Executive Officer Rajeev Suri in a press release. "Nokia's 5G solution combines our high-capacity New Radio, Core and SDN controlled 'anyhaul' transport and software, and incorporates innovations such as the new in-house silicon ReefShark chipset to deliver a new level of network performance."
Multi-Spectrum 5G Approach
According to an Ericsson press release, that company will supply T-Mobile with 5G radio access products available for use in the 600 MHz and  28 GHz frequency bands. A multiple spectrum band strategy that T-mobile claims is unique to them.
"A multi-spectrum strategy is critical to delivering a breakthrough consumer experience – and experience that includes national coverage and reliability from low band spectrum, reliable capacity and consistent mobile broadband speed with mid band spectrum and multi-gigabit hotspots in urban areas and on campuses with millimeter wave," T-Mobile notes.
Unlike Verizon and AT&T, T-Mobile appears to be skipping early 5G fixed wireless deployments, and is focused on mobile 5G.
"Unlike the Duopoly, T-Mobile is focused on delivering a truly transformative 5G experience," T-Mobile notes in their press release. "One that works on actual smartphones – not nomadic 'pucks' or fixed routers."
T-Mobile will focus 5G efforts on their 600 MHz bands first, and then will deploy in higher frequencies later this year. In addition, it expects to deploy 25,000 small cells to support Licensed Assisted Access that increases capacity for 4G LTE, which the carrier claims will help them harness 4G and 5G simultaneously.