Nokia today announced what the company claims is the world's fastest router. The product, known as the Nokia 7950 Extensible Routing System (XRS)-XC and targeted for commercial release in the fourth quarter, also supports terabit IP flows.
"That's 1,000 gigabits per second," said Basil Alwan, president of Nokia IP and optical networks, on a webcast announcing the product.
The 7950 XRS-XC uses a new Nokia-designed FP4 chip, which supports 2.4 Tbps half-duplex and according to Alwan, involved "fundamental innovation for cloud-scale routing." He noted, for example, that "we designed our own memory."
According to Alwan, the new product "is not cheap but it is a bargain."
The FP4 technology also "will deliver a huge price performance boost for existing products," Alwan said.
Nokia CEO Rajeev Suri highlighted a range of new applications that the company sees driving the need for greater network bandwidth and improved latency. "We're on the cusp of the fourth industrial revolution," he said. He predicted, for example, that robots remotely controlled over the network will handle routine tasks while top surgeons assisted by robots will perform surgery on a patient in another country using a network connection.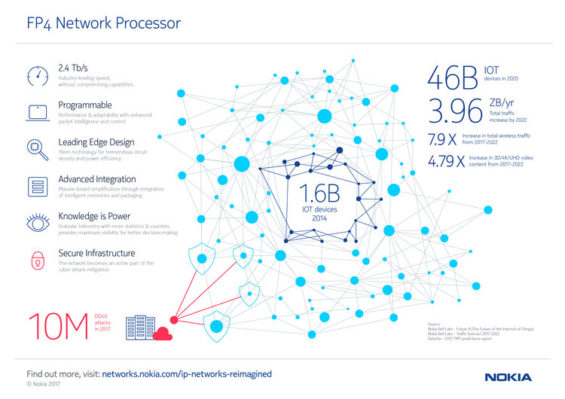 Suri also predicted that video eventually will be "subsumed," meaning that the DVR eventually will be eliminated and 4K video will be available everywhere.
Inside The "World's Fastest Router"
Alwan highlighted a range of security and management benefits for Nokia's new router, which he said will be increasingly important. The company gained security expertise through some recent acquisitions and is able to provide highly detailed and pinpointed alerts in the event of DDoS attacks, he said. End users will not have to "go through a bunch of addresses" to mitigate an attack, he said.
Similar network intelligence also will advise network operators if, for example, Google capacity is moved.
Nokia's view of the future involves "insight-driven automated networks," Alwan said.
A Nokia video reiterates that message. "Gain more control with superior visibility and intelligence," the narrator says.
[embedyt] https://www.youtube.com/watch?v=67hJvRcCjEo[/embedyt]
The 7950 XRS-XC scales to 576 Tb/s in a single system through chassis extension without requiring separate switching shelves, Nokia said in a press release.