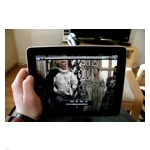 Americans spend nearly 35 hours a week watching video across screens large and small, as well as nearly five more hours using the Internet on a computer, according to the latest "Nielsen Cross-Platform Report." Furthermore, presented with more video viewing choices, they're not turning off their devices.
"Shifts in the distribution of time spent across all screens and devices demonstrate that more consumers are taking advantage of their increased ability to determine what, how and where they view content," Nielsen states in a press release.
The average American consumer living in a TV household spends 14 minutes per day using gaming consoles. Users of seventh-generation consoles spend considerably more time using them, however, Nielsen found. The capability of these latest-generation gaming consoles to serve both as gaming devices and video content carriers is seen as driving increased usage. Nielsen is watching traditional gaming manufacturers closely to see how they attempt to claim a "stake in this evolving ecosystem."
According to Nielsen's research, which is encapsulated in an infographic in the press release, 46% of U.S. TV households have gaming consoles and 39% have have seventh-generation gaming consoles. Of the latter, 19% have PS3s, 46% Wii's and 25% Xbox's.
In addition, Nielsen finds that U.S. TV households with seventh-generation gaming consoles "are open to new devices, subscribe to pay networks, and have access to broadband Internet." PS3s and Xbox's are popular with ethnic groups, Wii households have higher income and education levels, and kids are more likely to own a Wii while teens are more likely to own an Xbox 360, according to Nielsen's latest report.
Additional data and information are available in Nielsen's "State of the Media: Cross-Platform Report Q1 2012."
Image courtesy of flickr user bendodson.