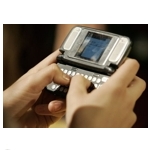 American teens (ages 13-17) are sending or receiving an average 3,329 text messages a month, more than six for every hour they're awake and 8% more than was the case a year ago, according to the latest research results from The Nielsen Company. Data usage is the "undeniable area of growth" when it comes to cellphone usage, Nielsen says. A mixed bag for telecom service providers, texting's gains are coming at the expense of voice calls, however.
Teens are the most avid 'texters,' and females are king of the hill in the teen texting category, according to Nielsen, which surveyed mobile usage data from more than 3,000 U.S. teens between April and June 2010. Teenage females send and received an average 4,050 texts per month while teenage males send and received an average 2,539 texts per month, the survey results show. Young adults come in a distant second, sending and receiving 1,630 texts per month, which works out to three texts per hour.
Indicative of just how important texting has become in teenage life, 43% of survey respondents "said that it was the primary reason for getting a cellphone," according to Nielsen. Hence, a QWERTY keyboard is the first feature they look for in a cellphone. Previously teens' top-ranked concern was safety, and teens ranked that second in this year's survey. Similarly, staying in touch with friends ranked as one of the top three factors.
Seventy-eight percent of teens "recognize the functionality and convenience of SMS," according to the Nielsenwire blog post, with 22% of respondents saying they preferred SMS because it was easier and another 20% saying so because it was faster.
While texting continues to grow, voice calling has decreased 14% among teens, average 646 minutes per month. Only adults over the age of 55 talk on the phone less than teens. Moreover, voice consumption typically rises and peaks at age 24, according to Nielsen, with teen females spending some 753 minutes per month making voice calls and males around 525 minutes.
Mobile phone data usage among teens increased four-fold, from 14MB in Q2 2009 to 62MB in Q2 2010, the largest jump among all age groups. Teenage males consumed 75MB of data this year as compared to 17MB in Q2 last year. The comparable figures for teen females are 53MB and 11MB, respectively.
Also of significance, mobile Web usage surpassed activity devoted to pre-installed games, ringtone downloads and instant messaging. Teens downloaded 12% more mobile apps in this year's Q2 than they did last year, as well as making greater use of mail and text alerts.