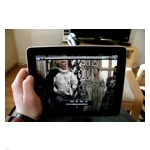 Nielsen revealed some interesting research which highlights the connection between TVs and tablets and smartphones – most tablet and smartphone users interact with their devices while watching TV.
In fact for tablets and smartphones, watching TV is the preferred 'situational use' for tablets at 70%, with lying in bed running second at 57%. Commuting is in last at 20%. Let's hope those commuters who admitted to using tablets ride the train, rather than drive themselves.
For smartphones, TV ranks as the highest situational use as well, at 68%, with 'waiting for something' running second at 59%. Attending a meeting ranks last at 23%. Nielsen also looked at eReaders like the Amazon Kindle, and not surprisingly, lying in bed was first at 61%.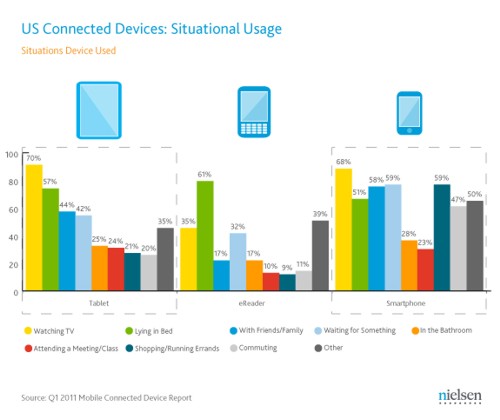 Nielsen also looked at the time usage of these connected devices. Findings of note include:
Tablet owners said 30 percent of their time spent with their device was while watching TV compared to 21 percent lying in bed.
Smartphone owners say that 20 percent of the time they use their smartphones is while watching TV, compared to 11 percent lying in bed.
eReader owners indicated only 15 percent of their eReader time was spent watching TV, though they spent a whopping 37 percent of their device usage time in bed.
Image courtesy of flickr user Ben Dodson.