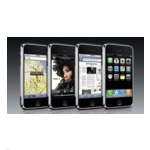 The percentage of American mobile telecom service subscribers who own smartphones continues to grow, reaching 50.4% in March, according to the latest Nielsenwire report. That's up from 47.8% in December 2011.
New buyers were picking smartphones more often than feature phones, with Apple smartphones proving to be the top brand of smartphone handset and Android the top smartphone OS, according to Nielsen's research.
Looking at US smartphone owner demographics, Nielsen found:
50.9 percent of female mobile subscribers carried smartphones in March 2012, compared to 50.1 percent for men.
Smartphones are particularly popular among those aged 25 to 34: More than two out of three in this age group have a smartphone.
Asian Americans lead smartphone adoption with 67.3 percent using a smartphone as their primary mobile handset.
Almost three in five Hispanic mobile subscribers use smartphones, and a majority of African-Americans own smartphones
Nearly half of American adults (46%) owned smartphones as of February, according to recently released survey results from the Pew Internet & American Life Project.