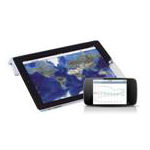 Americans own more electronic devices than ever before, according to new market research from Nielsen. That's not surprising, but Nielsen also found that the greatest growth is from devices "that didn't exist a few years ago."
More than 3 out of 5 Americans (65%) carry smartphones, up from 44% in 2011. Tablets are shared in 29% of U.S. households, and smart, Internet-enabled TVs are present in 16% of living rooms, according to Nielsen's "The Media Universe in 2013."
Moreover, laptop and desktop PCs are present in 80% of U.S. households. And, contrary to claims of the demise of the PC, Nielsen found that PC ownership "is up slightly over the last few years," according to a post on the Nielsen Wire.
At the heart of American living rooms are high-definition TV sets (HDTVs), according to Nielsen, ownership of which has now more than doubled since 2009, growing from 41% to 83% of households today. DVRs are now present in nearly half (49%), though the presence of DVD players has decreased slightly. Gaming consoles are present in 46% as a new 8th generation is released in time for the holiday season.
Regarding distribution, digital cable (54%) and satellite (31%) are the main conduits for bringing content to U.S. TV screens.