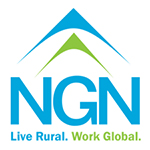 NGN Connect, a community-owned network operating in north Georgia, said today that it has reacquired the fixed wireless customer base and assets that it sold to Habersham Electric Membership Corporation (HEMC) in 2015.
NGN Connect and HEMC are co-owners, along with Blue Ridge Electric Membership Corporation, of NGN, a cooperative  formerly known as North Georgia Network that operates a 1600-mile fiber network in the state.
"NGN Connect initially sold the wireless assets and customers it owned in Habersham EMC's area because, at that time, the EMC was interested in directly providing wireless broadband service to its electric members," said a spokesperson for NGN Connect in an email to Telecompetitor.
At the time HEMC made the purchase from NGN Connect, HEMC "thought it would be beneficial because it could provide an economic development boost for the communities we serve," said HEMC Director of Member Services David Foster, in a separate email. "In addition, it could have been an option for the DSL customers we served at the time."
HEMC no longer offers DSL, however, and HEMC made the decision to exit the fixed wireless business because, as Foster explained in a press release, the company now wants to "provide services that promote value to all its members without subsidies."
After the initial sale to HEMC, NGN Connect continued to provide fixed wireless service outside HEMC's service area. In addition, NGN Connect offers fiber-based internet  connectivity and HEMC is in the process of deploying a fiber network to support broadband services in some areas.
When NGN Connect learned that HEMC had decided to exit the fixed wireless business, "we knew we wanted to re-purchase the assets and serve the customers we had once again" because "[w]e have always been interested in assisting HEMC's service area with their connectivity needs," the NGN spokesperson said.