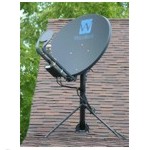 The first data from relayed from the ViaSat-1 high-capacity satellite has been received by WildBlue's high-speed data network. Launched in late October and now in geosynchronous orbit, ViaSat-1 "is designed to transform the economics and quality of service for satellite broadband," according to a ViaSat news release.
Providing 140 gigabits per second (Gbps) of bandwidth, the Ka-band spot satellite is the world's highest capacity telecoms satellite, according to ViaSat. The initial transmissions and receptions were completed on Dec. 2 evening from a SurfBeam 2 ground station terminal at ViaSat's Carlsbad, CA campus through a gateway located in Milford, Utah, the company reported. The initial test included Internet video streaming, as well as Web surfing and email.
ViaSat-1 offers 100 times the capacity of previous generation Ku-band satellite communications, as well as 10 times the throughput of any other Ka-band satellite. ViaSat and its partners hope this asset will greatly boost the performance of satellite broadband services, which currently have limits and struggle to support the digital lifestyle of today's subscriber.
ViaSat-1 is carrying more bandwidth capacity than all current North American satellites combined, according to the company. Welcome news to WildBlue partners and customers, both of whome have been eagerly awaiting this additional capacity.
ViaSat-1's manufacturer, Space Systems/Loral will hand over operation of the 140 Gbps capacity satellite to ViaSat and its partner, Telecast, once in-orbit testing is completed. A final project phase will then begin, wherein the component parts of the satellite broadband network will be fully integrated. That entails integration of 20 Surfbeam 2 ground stations to the Internet backbone.
"We have advanced satellite technology to the point that satellite can now be a better alternative for broadband Internet than DSL, and 3G / 4G wireless offerings for fixed home use – an enormous leap for satellite broadband technology," said Mark Dankberg, chairman and CEO of ViaSat. "The ViaSat-1 satellite will help bridge the 'digital divide' in the U.S., and we're confident that this new service has been designed in a way where it will be attractive to a large segment of the U.S. population – delivering both speed and value to the underserved."
That's network bandwidth at a cost that satellite broadband providers WildBlue and Canada's Xplornet, as well as JetBlue Airways is looking to take advantage of.  Commercial services are expected to begin prior to the end of this year.