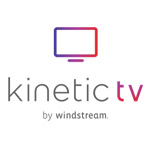 Windstream today introduced its own app-based television product, Kinetic TV, providing network entertainment and local channels for residents of Lincoln, Neb., as well as 14 other cities across the state: Adams, Clatonia, Cortland, Davey, Denton, Fairbury, Hallam, Hastings, Hickman, Malcolm, Martell, Pickrell, Wilber and York.
We reported in early February that the Windstream MobiTV deal provided Windstream with a new method of video delivery using a customer's broadband connection in combination with a MobiTV Connect app instead of a traditional IPTV or cable-based approach. Windstream will continue to use its Kinetic brand for the offering, Kinetic TV.
"Customers today want access to their favorite shows, movies and local programming from anywhere," said Brad Hedrick, president of Windstream operations in Nebraska in a prepared statement about today's announcement. "Our new Kinetic TV service offers just that. Kinetic TV combines the best of television, movies, and local news and programming, across all televisions and personal devices, making it easier than ever to watch TV how you want."
Kinetic TV subscribers can choose from multiple packages that include popular networks such as Lifetime, USA and HGTV, with the option to access premium networks (STARZ, Encore and PiXL). Local broadcasts are part of the subscription package.
The Kinetic TV replay app enables subscribers to instantly watch any missed shows, movies and sports up to 72 hours after they air.
Windstream is in the process of expanding broadband availability in Nebraska using funding from the state's universal service fund in combination with its own money.