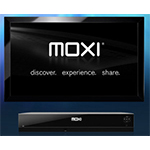 TDS Telecom has opted to use the Arris MOXI Whole Home offering to support TDS whole home DVR, TV Everywhere and other capabilities in parts of the service provider's territory in the southwest U.S.
TDS was attracted by four capabilities of the product, a TDS spokesperson said. These include whole home DVR, the capacity of the DVR, the ability to support over-the-top content in a converged environment and the user interface.
The Arris offering also will support TV Everywhere but that's not a new capability for TDS.
"TV Everywhere is available to all customers, not just MOXI customers," the spokesperson said.

TDS Whole Home DVR
The MOXI Whole Home offering includes a gateway and a player, and TDS plans to use both products, which will be part of the service provider's standard offering in the target markets, the spokesperson said. TDS bases its pricing on equipment costs, the spokesperson noted. Accordingly, "we charge for the gateway and then incrementally for each player," the spokesperson said.
The MOXI products will operate over TDS's HFC infrastructure, the spokesperson said. TDS offers video services over a variety of platforms, including fiber-to-the-home  in some areas and through a partnership with Dish Network. The company gained HFC infrastructure through its acquisition of cable operator Baja Broadband in 2013.
Initially, these TDS whole home DVR products will launch in 11 southwest markets, with plans to add eight more in the area before the end of the year.