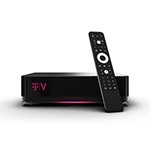 T-Mobile on Sunday will launch the video offering that the marketplace has been expecting since the wireless carrier acquired video technology developer Layer3 in late 2017. The initial launch will include eight cities, but the company plans to launch additional markets this year. The offering, dubbed TVision Home, will require a wireline broadband connection initially.
In addition, T-Mobile said TVision Home is "designed for a 5G future where wireless broadband can replace your home internet" – a reference to the company's 5G fixed wireless plans, which could be quite ambitious if the company's plan to merge with Sprint is approved.
The initial eight TVision Home markets are Chicago; Dallas-Fort Worth; Los Angeles; Longmont, Colorado; New York City; Philadelphia; San Francisco and Washington, D.C.
TVision Home
With TVision Home, T-Mobile said in a press release that it is bringing the "Un-carrier" approach that it used to disrupt the wireless industry to cable and satellite TV. But the initial offer seems to be lacking any true disruptive quality. T-Mobile's plan to pay off a customer's existing satellite TV contract in the form of a gift card valued at up to $500 might be appealing, but that's certainly not a new marketing tactic.
The price for TVision Home is also lacking any disruptive appeal. According to today's press release, the service "launches at $90 a month (including a $9.99/month discount for T-Mobile customers…but available to everyone for a limited time)." In other words, the regular price is $99.99 a month.
According to the company, the average cable bill is $107.30 a month – which means savings are relatively slim, particularly considering that T-Mobile charges an additional $10 a month per connected TV.
The standard TVision Home offering includes 150+ channels, including local broadcast. Premium channels such as HBO and Showtime cost extra, as will on-demand rentals.
The technology underlying TVision Home, acquired from Layer3 and tweaked over the last 16 months, may be more disruptive, although it doesn't appear to exceed the capabilities of some other video platforms such as Comcast's Xfinity X1 offering.
In a video that accompanies today's press release, T-Mobile touts a range of TVision capabilities, such as a user interface that integrates streaming video and audio offerings, smart speaker control, the ability to display the status of a home security system on the TV screen and others. Support for Netflix and Amazon Prime are on tap, as are other entertainment apps.
[embedyt] https://www.youtube.com/watch?v=rDvWfmBUPF8[/embedyt]
"It's TV for people who love TV but hate their cable provider," says a character in the video who acts as a sort of T-Mobile spokesman.
While the TVision Home user interface may offer some differentiated features, the hardware supporting it seems very status quo. At a time when some video providers are moving away from the set-top box, TVision Home is launching with one – although the company notes in the press release that TVision also works with "the apps and hardware and services people already use" and that the company plans to launch TVision on "popular third-party TV platforms" in the future.
The size of the potential market for TVision Home will depend, in part, on the speed of the broadband connection required to support it. The company did not immediately reply to an inquiry from Telecompetitor asking about that minimum speed, but some other service providers recommend at least 10 Mbps for similar offerings.