Facebook and MCNC, the non-profit operator of the North Carolina Research and Education Network (NCREN) are "co-investing" to build a high-speed fiber network interconnecting the rural North Carolina communities of Dobson and Forest City. The latter community is home to a huge data center owned by Facebook.
Perhaps the planned network build could serve as a new rural deployment model for other rural areas.
MCNC provides backbone connectivity throughout large portions of North Carolina, including areas where it's difficult to make a business case for fiber deployment. Over the years MCNC has received funding from the broadband stimulus program, the Golden LEAF Rural Broadband Initiative and other sources. The Golden LEAF Foundation is a rather unique non-profit economic development organization that was funded, in part, from a 1998 Master Settlement Agreement with cigarette manufacturers to assist tobacco-dependent, economically distressed and rural communities across the state.
The MCNC Facebook deal is also rather unique but not surprising, considering some other recent moves that Facebook has made. Last year, for example, the company announced plans to build a fiber network interconnecting major internet exchanges in Ashburn, Virginia and Columbus, Ohio – a move that should reduce the company's transport costs substantially, considering the volume of traffic that Facebook generates. The company also has undertaken similar network construction in other states as well. And last year, Facebook established a Middle Mile Infrastructure subsidiary to sell excess capacity on its fiber networks, creating a new revenue stream for the company.
Facebook also has gotten some good PR from some of its network builds. A press release about the Virginia-to-Ohio link noted that the network would go through West Virginia, enabling broadband providers to expand connectivity into communities along the route.
MCNC Facebook Plans
Today's release about the MCNC Facebook North Carolina build took a similar approach, noting that the network will make high-speed broadband available to nearly 30 anchor institutions such as education and healthcare facilities in western North Carolina.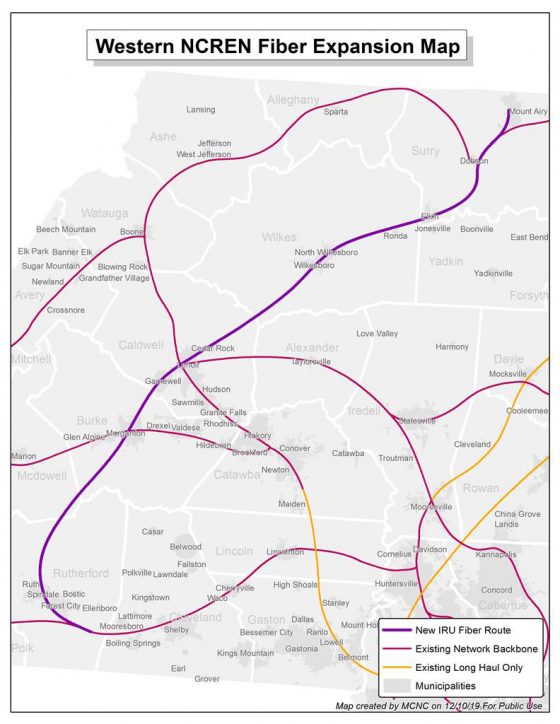 Facebook and MCNC did not provide financial details about the new deal such as how much each player is investing, how revenue will be shared or who owns what percentage of the network. Nevertheless, the fact that both partners found the deal to be worthwhile should be encouraging news for other rural areas, particularly those that have a major data center.
Some data center operators are attracted to certain rural areas, viewing them as having a relatively low likelihood of natural or man-made disasters in comparison with more urban areas. High-speed broadband connectivity is key for these data centers and perhaps Facebook isn't the only data center operator that would be willing to "co-invest" in network connectivity to support data center operations.