Nearly one third (33%) of U.S. households do not have a broadband connection providing download speeds of 25 Mbps or faster, according to new research from NPD Group's Connected Intelligence advisory service. The "vast majority" of households without broadband are in rural areas, researchers said. In the most rural areas, less than 20% of households have a broadband connection, they said.
Not surprisingly, many households without broadband still purchase DVDs due to a "less than satisfactory streaming connection," according to an NPD press release, but broadband households are more likely to stream video. Households without broadband may be looking toward a future when they can get it, however, as 43% of rural households own a streaming media player, regardless of whether they have access to broadband – an ownership rate that is only slightly less than the U.S. average of 45%.
Recent research from Parks Associates found a slightly lower 39% of U.S. households with streaming media players, but both numbers are in the ball park with one another.
Households Without Broadband
Broadband household penetration varies considerably from one state to another, researchers noted. That rate is 80% or higher in states such as New York, New Jersey, and Maryland that have a high percentage of urban areas but is between 20% and 39% in more rural states such as North Dakota, South Dakota, Mississippi, Alabama and upper Michigan.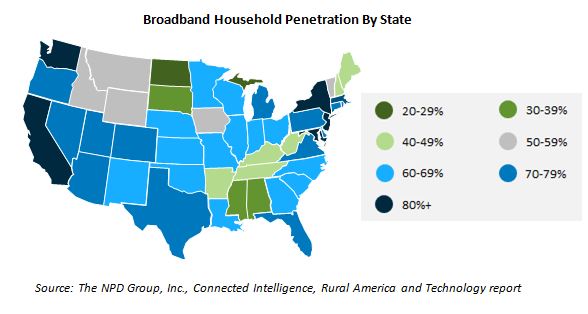 NPD Group's methodology for calculating these numbers is particularly interesting at a time when the FCC is trying to determine exactly which U.S. households do and don't have broadband available to them. Traditionally the commission relied on information collected through Form 477 that broadband providers are required to file indicating where they provide service, but numerous critics  have argued that the methodology used for collecting that information is flawed and causes broadband availability to be overstated.
Form 477 data is one of the inputs that NPD Group used for its new Rural America and Technology report, but researchers refined that data using its own mobile phone tracking service, which provides details about currently active phones at a zip code level, including the Wi-Fi carrier used and cellular-based details. As NPD explains, "the home-based broadband carrier is determined from this solution and is matched against the Form 477 data to determine the technology – DSL, etc. – that is used for the home broadband product."
NPD Group noted that its data may overestimate 25 Mbps broadband availability slightly because slower internet connections such as line of sight services may be understated, but the researchers said they don't believe the overstatement is significant.
Numerous parties, including the FCC, the National Telecommunications and Information Administration,  carrier group USTelecom  and others are working on getting better data about broadband availability, which will be critical in determining where Universal Service/ Connect America funding should be made available for broadband buildouts. It seems like NPD Group's dataset is another input these organizations ought to look at, if they haven't looked at it already.