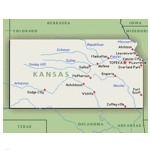 Four entrepreneurs are taking a unique approach to getting broadband deployed in the town of Emporia, Kansas. As local media outlet the Emporia Gazette reports, the entrepreneurs are asking people in the community to invest in a new company formed to build and operate the broadband network.
The four entrepreneurs previously worked together at a Kansas phone company known as Valu-Line created in 1982 that merged with Birch Telecom in 1998, the Emporia Gazette report states. The new venture is called Valu-Net and since July, the venture has raised about $5.5 million—more than 90% of which has come from current or former Emporia residents. According to the Gazette, Valu-Net estimates that it needs to spend just over $14 million to install a fiber-to-the-premises network in Emporia—an area that has lacked high-speed Internet.
"We're investing in ourselves, but this hopefully will turn around (dividends) for investors," one of the entrepreneurs told the Gazette.
The entrepreneur also told the Gazette that laying of the main underground cable is already well underway through an agreement with Kansas Fiber Network. As Telecompetitor has previously reported, Kansas Fiber Network is a fiber network spanning a large part of the state that was created by a group of independent telcos.Undoubtedly the existence of that network should help minimize the cost of "middle mile" connections between Valu-Net and Internet points of presence and help to make both the Valu-Net and Kansas Fiber Network projects more viable.
In addition, Valu-Net has an interconnection agreement with AT&T and a contract to use poles belonging to the local power company when needed. The ability to use power company poles is an asset that has helped minimize the cost of fiber deployments in some other communities.
Valu-Net expects to create about 30 full-time jobs, in addition to the contract crew jobs needed during construction, the Gazette said.
Emporia has a population of about 25,000, according to the latest U.S. census.