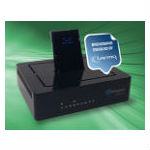 As the broadband carrier ecosystem continues on its mission to bring faster and more robust broadband services to the market, there is an ongoing debate regarding wireline versus wireless. Many wireline proponents say nothing but ubiquitous FTTH should be the goal, while wireless proponents argue you simply can't beat the economics of wireless to bring broadband to the masses. Perhaps the true answer is a hybrid of the two and an announcement by Lantiq and Netgem illustrates the promise of this hybrid approach.
The HYBRIDGE gateway integrates DSL and 4G LTE interfaces into a single customer premises device, combining the aggregated power of both broadband technologies into a single user experience. According to a Lantiq press release, the combined effort can produce broadband speeds of up to 200 Mbps downstream and 100 Mbps upstream, with dedicated QoS built in to support video and voice applications. The new gateway will be introduced at the upcoming Broadband World Forum.
The new gateway is based on Lantiq's DSLTE technology, a reference design that they hope is adopted by more broadband CPE manufacturers like Netgem, a French manufacturer of broadband gateways. The DSLTE design is compatible with VDSL and vectoring, but is also backwards compatible with ADSL2+ technology, potentially broadening the appeal of this approach to DSL operators looking to add broadband capacity and performance to legacy DSL markets. By adding broadband capacity from LTE, perhaps an expensive move to FTTH could be delayed or avoided, or underserved markets with slower legacy DSL could be more easily upgraded.
This hybrid approach can offer differentiated applications for service providers. For example, Netgem offers a portable 4G LTE hotspot with the gateway, which can be removed from the device and used for portable broadband access on the go. The HYBRIDGE gateway also supports multiple HD video streams simultaneously, Gigabit Ethernet LAN ports, and dual band concurrent 2.4GHz + 5GHz Wi-Fi connectivity.
A Lantiq spokesman told Telecompetitor today that the gateway can be positioned as an effective competitive tool for DSL operators who are facing growing competition from DOCSIS 3 enabled cable broadband offers. Those DSL operators will either need their own 4G LTE spectrum and network or some type of agreement with a wireless operator to take advantage of the approach. Neither Lantiq nor Netgem announced any broadband carriers who have deployed the HYBRIDGE gateway yet.
Does this or similar hybrid approaches that leverage both wireline and wireless broadband technology have any appeal?