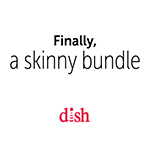 A new DISH skinny bundle, announced today, is the latest offer in an ongoing trend to tinker with the traditional pay-TV channel line-up. Skinny bundles typically provide a core channel line-up, with options for additional channel packs. The goal is to offer a lower cost option for pay-TV, while also offering a perception of choice of channels.
DISH's Flex Pack will offer a core channel line-up of 50 channels which will include AMC, TNT, USA, HGTV, E!, Cartoon Network, History, A&E, CNN, Discovery, TBS, Food Network, FX and TV Land, among others. Customers can then choose additional channels from eight different channel categories, ranging from an additional $6 to $10 per month.
The $40 DISH skinny bundle monthly fee includes one channel pack, although customers can elect to only go with the 50 channel core package for $30. The channel packs include a local channel bundle, featuring local broadcast channels, a sports themed pack (including a separate regional sports channel pack), and a news channel pack, among others.
"Our customers are frustrated with having to pay for hundreds of channels, most of which they never watch," said Warren Schlichting, DISH executive vice president of Marketing, Programming and Media Sales in a press release. "Flex Pack provides a level of flexibility and control that brings our customers closer to the ideal of fully tailoring their channel lineup."
There are add on fees including a $10/month option for DVR service and customers have to enroll in DISH's eBill and AutoPay services to qualify for this offer.
DISH joins a few other providers who are experimenting with skinny bundles, most notably Verizon and Cincinnati Bell. Although Verizon has scaled back their skinny bundle efforts after first launching the trend just over a year ago.
Skinny bundles are part of an ongoing attempt by the "old" pay-TV regime to address the emergence of OTT and the "new" pay-TV model. Subscribers are increasingly enticed by OTT offers that appear to offer more choice and lower cost than traditional pay-TV offers.